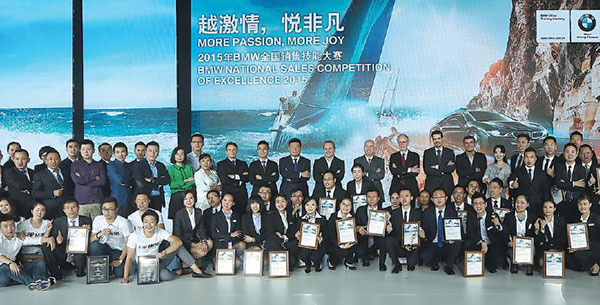 Finalists from the recent BMW and MINI national sales competitions of excellence vie for a chance in Beijing in late August to undergo training in Munich or London.[Provided to China Daily]
Thirty finalists competed on Aug 27 for 15 training opportunities with German luxury carmaker BMW in Germany or the UK, after leading four national rounds that tested professional skills and customer service.
The fourth BMW National Sales Competition of Excellence and third MINI National Sales Competition of Excellence were held in Beijing to provide training for the competition winners.
Half of the 20 finalists from BMW and 10 from MINI earned further training abroad in Munich or London.
Jochen Goller, senior vice-president of sales and marketing at BMW Brilliance Automotive Ltd, said at the event that BMW's sales staff is nurtured to be extremely competent and to strive hard, as well as to be customer-oriented.
More than 6,000 sales staff took part in the intense four rounds of competition held nationwide since May.
Sales consultants, sales managers and trainers were among the contestants in this year's NSCEs, expanding the platform to showcase their talent and encouraging them to share ideas and knowledge with each other.
The purpose of the NSCEs, as part of the BMW China Training Academy program, is to help BMW staff increase their learning from their peers, to teach them to challenge themselves, increase their professional standards and raise customer satisfaction, according to the company.
The BMW China Training Academy holds regular competitions to improve staff knowledge and skills, also inspiring staff loyalty to the brand and staff members' sense of responsibility.
Sean Green, vice-president of MINI brand management at BMW China Automotive Trading Ltd said: "MINI is a unique brand. MINI has won popularity among the public and is a brand closely recognized by Chinese customers. Ever since MINI entered China, it has been a great success story.
"In addition to our innovative MINI cars, our talent pool and sales team have been contributors (to this success). We are always improving to achieve the best and be more successful in China."
Training support
BMW China opened its fourth training center in Xi'an this month in accordance with its global standards.
The company has established an extensive and efficient training network that covers all provinces in China.
The BMW China Training Academy already had training centers operating in Beijing, Shanghai and Guangzhou, and a further 15 training bases throughout China.
Joachim Geissler, vice-president of Qualification, Retail HR at BMW AG, said: "Our training approaches and methods are at the same high level worldwide. We ensure this through not only training people in retail, but also our trainers are trained and certified through us."
The carmaker also works with universities and vocational schools. BMW cooperates with 15 universities in China to train students and then direct them to its dealerships.