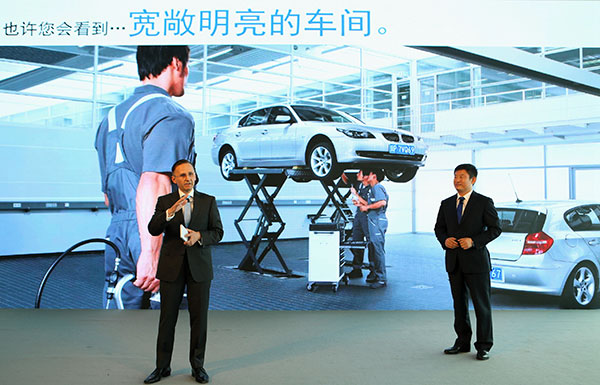 Claus Eberhart (left), vice-president of after-sales service for BMW Brilliance Automotive, and Zhan Fei, vice-president of after-sales service at BMW China Automotive Trading, share insights during the "Maintaining Joy - 2015 BMW after-sales brand strategy launch" on Aug 24. [Photo provided to China Daily]
German luxury carmaker BMW announced its "Maintaining Joy" after-sales service upgrade in China with a new strategy promising convenience, trust and care on Aug 24 in Beijing, weeks after the carmaker initiated a new brand campaign centered on innovation.
BMW's after-sales service pledge of "convenience" replaced the earlier "efficiency" as the company aims to prioritize the efforts to minimize customer waiting time; "Trust" is upgraded from the previous "transparent" with the purpose of highlighting its professional services; "Care" means to be beyond what customers can expect.
Jochen Goller, senior vice-president of sales and marketing at BMW Brilliance Automotive said, "Whatever we do, we are always putting the customers at the heart of our activities, to become China's leading brand in the after-sales service market.
"Premium after-sales service is rising to be a core competitive area among premium auto brands. For BMW, our focus is on customers and their satisfaction and we are persistent to be offering the best premium service in the Chinese market," he said.
In 2011, BMW launched "Maintaining Joy", the after-sales service brand strategy specifically developed for China and simultaneously introduced a range of premium service items in the segment. Customers from then have experienced the full benefits of BMW service.
Claus Eberhart, vice-president of after-sales service, BMW Brilliance Automotive, said there were more than 2 million BMW and MINI cars on the road in China by the first quarter of this year.
"This is a big responsibility for us, which means about 2 million Chinese customers to take care of, and this will also be a big opportunity to sustain the brand attraction for customers."
The German brand has become a leader in after-sales service as the first carmaker to specify an after-sales service brand in China.
BMW entered the Chinese market 20 years ago, and its roots in Chinese soil have a long-standing history, according to the company.
Zhan Fei, vice-president of after-sale service at BMW China Automotive Trading, said the brand ranked top in the Chinese market for a third consecutive year in an international customer satisfaction survey this year.
Convenience-oriented service items include one-hour oil service, 24-hour repair of body and paint, evening service and reservations.
Trust comes from the use of original BMW parts, maintenance systems and highly trained professional technicians. Such services as the BMW's accident hotline, roadside assistance and end-of-warranty free checks are designed to reflect the marque's extra care for BMW owners, according to the company's new after-sales service brand.
Convenience
Eberhart said: "We made huge investments to secure service convenience and quality, not only in large cities, but also in tier-four and five cities. We have built a large number of service centers and outlets in cities and townships."
BMW is continuing its penetration into tier-four and five cities and towns.
Authorized BMW sales and service outlets now exceed 400 and more than 10,000 repair work bays have been set up, covering all provinces in China.
More than 30,000 staff now work in the BMW after-sales sector in China.
BMW Brilliance is expanding its distribution network to get closer to customers. Currently four regional distribution centers in Beijing, Shanghai, Chengdu and Foshan deliver automobile and motorcycle parts, accessories and lifestyle products.