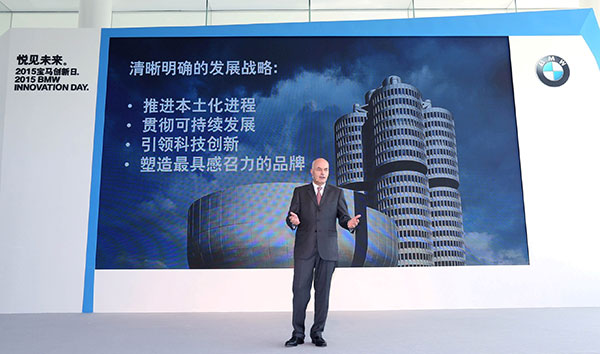 Karsten Engel, president and CEO, BMW Group Region China, announced the brand claim"Innovation-Powerd by Joy". [Photo provided to China Daily]
BMW launched its latest strategy for the Chinese market on Friday that prioritizes innovation as its core concept.
The strategy, called "Innovation-Powered by Joy", aims more directly toward innovation while holding to the principles of "future, young and China".
"Innovation is the core strength of our company to build up a story of success lasting for nearly 100 years," said Karsten Engel, president and CEO of BMW Group Region China.
"In a broad sense, innovation is to take new perspectives, do things differently and move ahead of others before any trend becomes reality. At BMW, we always believe the best way to predict the future is to create it."
Engel led a specialized team of experts over the past two years to conduct research that examined the BMW brand and how it should develop over the future.
The team of experts queried more than 3,000 BMW car users, industry specialists and experts. The 15-month-long research found changes in how high-end consumers thought, which helped the team redefine the new brand image with a more appealing personality.
Engel said the younger generations of the 1980s and '90s are becoming the nation's mainstream consumers and that BMW is expanding to cover these younger segments.
In the future, consumers are going to be more self-confident, be full of personality and do what they are happy doing. They enjoy the creative process and believe innovation is essential.
The research showed that young Chinese consumers are focusing away from public recognition to a fulfillment of individual needs and are looking for innovation, personality and an emotional connection in their purchases. They are more interested in brands with a low profile but are still highly innovative.
Through its research, the team molded a brand strategy that pinned "joy" as the source of innovation and creativity.