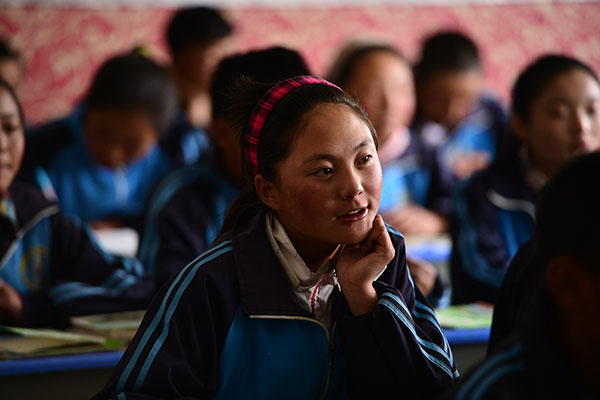 Students enjoy a class with volunteers from Beijing. [Photo/China Daily]
Shen Yufeng did not expect to receive seven khatas, traditional Tibetan ceremonial scarves given to offer respect and goodwill, when he arrived at Jiegu, in Yushu Tibetan autonomous prefecture in Qinghai province, on July 10.
"Nima Zhaxi learnt I came to Yushu so he and all his six teachers came to greet me," said the 42-year-old owner of a software development company in Beijing.
Nima is headmaster of Ganda Primary School, which Shen visited in 2014 for an event organized by the BMW Warm Heart Fund. He said during his visit he found that many of the students could not afford lunch and for those who could the quality of food was "almost unimaginable".
Shen and some other people on the trip decided to take action and he said, "Now at least they can have meat on alternative days."
This year, Shen went deeper into Yushu prefecture, to Zaduo county, with 60 other BMW customers, dealers and associates. The eight-day trip, from July 10 to July 17, was the ninth visit organized by the BMW Warm Heart Fund to the region since a disastrous earthquake claimed 2,698 lives in 2010.
The BMW Warm Heart Fund has donated nearly 7.5 million yuan ($1.2 million) worth of materials to 27,000 students in Jiegu and at least 77 yaks to poor local families. Yaks are regarded as an important treasure for Tibetan families.
As reconstruction efforts have been gradually finishing in Jiegu, the epicenter of the 2010 earthquake, and local residents' lives slowly return to normal, BMW has been working to help protect the environment in the Sanjiangyuan region.
Sanjiangyuan literally means the source of three rivers: the Yangtze River, the Yellow River and the Lancang River. The three rivers provide water supplies to as many as 600 million people, almost half the population in China.
BMW partnered with Shan Shui, a conservation organization that focuses on environmental protection in the Sanjiangyuan region, and donated 3 million yuan to help finance its efforts.
Shen was invited to join the Shan Shui experts to collect grass samples and monitor traces of snow leopards and rock goats.
Experts use the information to learn more about the ecology of the region and come up with more effective suggestions on how to protect it.
To gather the information Shen would have to take a trip up high in the mountains but those who had been there before told him it would be worth the journey for the chance to see the area's natural wonders.
Shen hesitated for a while but finally decided to join the team of volunteers who taught at the county's No 2 middle school, where he thought his skills would be more useful.