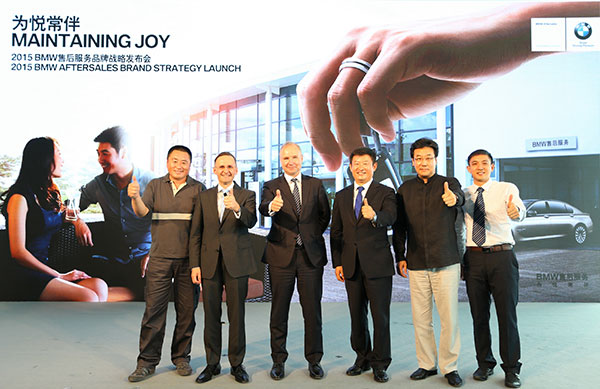 VIPs celebrate the announcement of the new strategy. [Photo provided to China Daily]
Its fifth RDC is set to start operation in the first quarter of 2016 to cover North and Northeast China.
The Shanghai RDC, BMW Group's largest in Asia, began operations on April 9. The Beijing RDC was upgraded last year.
These measures are aimed at reducing parts delivery time by 20 percent. Optimized workflow powered by innovative technologies allows urgent orders to be fulfilled in 24 hours.
BMW is offering a reservation service on Tmall and more than 100 dealerships participated in the past two months.
Service check-ins are also available, so BMW customers don't have to drive the car to the dealership, but can leave their vehicles at a site, from where staff will collect them for transport to the dealership for servicing.
Trust
Zhan said customer satisfaction and professional services are the fundamentals of 4S dealerships, as BMW cherishes its relationship with current customers and hopes to attract more.
"We have expert service people, a specialized spare parts supply system and professional repair and examination facilities. So we are fully confident in our quality for an edge in after-sales service," he said.
Communications between a customer and his or her service station or dealership are also enhanced through the mobile Internet and mobile app, Zhan said.
BMW will further consolidate the management of its dealerships, to elevate its fundamental services.
Care
Eberhart said: "We keep undertaking large-scale market research with our customers. We listen to customers to meet their changing demands and expectations, as the customer numbers are very large and their preferences are diversifying."
BMW has always been customer-oriented and motivated by its customers and has targeted becoming the best premium auto brand in China for Chinese customers.
"The backbone to the entire service system is training, and this is the strong guarantee of the quality of service. We have been investing massively in the Chinese market to strengthen the training," he said.
BMW Brilliance Automotive provided training that totaled 250,000 "man-days" in 2014 .
The automaker currently has three training centers and 15 bases, with a fourth center set to open in Xi'an in September.
Goller said, "After-sales is absolutely the key to winning the market, which is becoming more mature. We can see from the US, European and other major markets, that the company that is successful in the after-sales market ultimately leads in the new car business.
"The target of BMW is to realize the development of a sustainable business, and to keep our lead in the premium auto market with attention to attracting Chinese customers to the BMW brand."
haoyan@chinadaily.com.cn