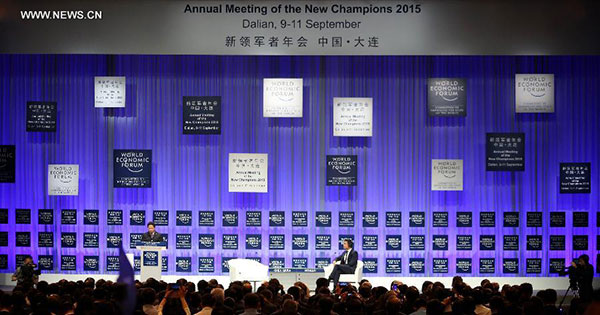 The opening plenary of the 2015 New Leaders Meeting of the World Economic Forum (WEF) is held in Dalian, northeast China's Liaoning Province, Sept 10, 2015. [Xinhua/Yao Jianfeng]
BEIJING - China's economy still has much momentum behind it, "as structural readjustment will transform challenges into strengths in the long run," said a commentary in the People's Daily, the flagship newspaper of the Communist Party of China (CPC), on Friday.
Although modest corrections and downward pressure have been seen in several official indicators, such as imports and exports and GDP, these key indicators have all fallen within a reasonable range, the article said.
China's GDP last year posted its weakest annual expansion in 24 years, mainly resulting from a housing slowdown, weakening domestic demand and unsteady exports. Economic growth slowed further to 7 percent in the first half this year.
A 7-percent rise is not an easy achievement in a slowing world economy, and the rate is among the highest in major economies, Premier Li Keqiang said at the Summer Davos forum in northeast China's Dalian this week.
"China is the source of global growth," Li said, adding the country has sufficient policy tools to reform the macro-economy, and will continue to roll out targeted and innovative measures to counter downward pressure.
Facing lingering headwinds, the government is determined to overhaul its economy into slower but more sustainable growth based on a more balanced industrial structure, according to the article.
Reforms are the best catalyst for growth, it said. The government has been encouraging innovation and business startups, and reform of state-owned enterprises is also deepening.
China contributed roughly 30 percent of world economic growth during the first half of this year.