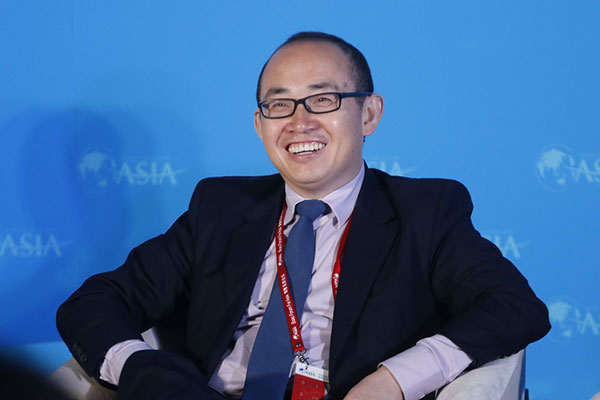 Pan Shiyi, co-founder, Chairman and co-CEO of SOHO China, smiles at a sub-forum with the theme "Dialogue: Doing Business the Internet Way" during the Boao Forum For Asia Annual Conference 2015 in Qionghai city, South China's Hainan province, March 29, 2015. [Photo/IC]
With the expansion of SOHO3Q, a newly launched shared online workspace service, SOHO expects its revenue in China to rise. SOHO China's Chairman Pan Shiyi regards the company's current stock price as severely undervalued.
SOHO China Ltd's current price is HK$3.03, which fell from HK$4.49 after it revealed its semi-annual report in late August. During the first six months this year, SOHO China's revenue was 393 million yuan, a 92 percent plunge on a year-on-year basis.
The revenue decline is related to the company's transition from the build-to-sell business model to the build-to-hold one, which it announced back in 2012. SOHO China's sales income hit bottom, as the first-half annual figure declined from 4.58 billion yuan in 2014 to 46 million in 2015.
"We foresaw this turning point three years ago, and we have transitioned smoothly," said Pan Shiyi. He is confident with the process as it is backed up with a stable financial condition and a potential rise in future rent income.
SOHO China is planning to expand its rent service at a fast pace, especially SOHO3Q. The online platform, similar to Wework, provides short-term lease of small office space. Launched in February, SOHO3Q now holds 3,300 seats among five self-owned properties in Beijing and Shanghai. That number is expected to surge to 11,000 by November, and reach 40,000 by 2016,
On Tuesday, SOHO3Q offered 40 seats for an online auction without reserve. Its slogan was "Pan is calling you for this good bargain", but it turned out some of the leases were closed higher than reference prices.
As the last bid winner of the day, Uban, an online office renting company, closed the deal at 38,500 yuan ($6,111) for two-month lease of a four-seat office at Wangjing SOHO3Q, which is much higher than the reference price of 33,280 yuan. "Located at Soho3Q, we can reach the potential market of many startup companies, and we didn't set up a maximum price for today's auction," said Kuai Tingting from Uban.
According to Pan Shiyi, the auction prices are still quite profitable for SOHO China. He doesn't consider the auction as a promotion strategy, but a new method to achieve a rent ratio of 100 percent.
"In the future, we will not even have a reference price. The returned seats will be available on the mobile auction platform in the morning, and get rent out within the same day, whatever the price is offered," said Pan.
The auction system will be widely adapted across SOHO3Q by the end of October. It is said a crowd sourcing rent management system will be put into place by then." SOHO3Q is a practice of sharing economy, just the same as Airbnb and Uber," Pan said.