Editor's note: More than 1,700 participants from 90 countries are attending the Summer Davos in Dailian, Liaoning province, from Wednesday to Friday. Their discussions will focus on transformational science, industry disruption, economic uncertainty, China's "new normal", environmental boundaries and "being human". Below one participant looks at the influence of technology and innovation on economic growth.
With our growing knowledge and understanding of genetics growing, two things have become clear. First, people's genetic differences can lead to different responses to treatments. Second, more precise, personalized treatment plans could improve patient health outcomes and reduce healthcare costs significantly.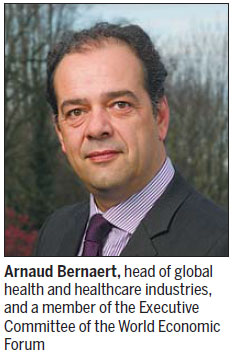 The cost of healthcare has consistently outpaced economic growth by 2 percent on average in the Organization for Economic Cooperation and Development countries over the past 50 years. The continued growth of precision medicine can help curb this trend.
When applied to individualized chronic disease management, it can reduce hospital admissions and speed up discharge through integrated care solutions and personalized treatment plans adjusted in real time.
And thanks to remote monitoring solutions, care could be provided in lower acuity settings, including the home.
Fast progress in genomics, proteomics (the science that explains how messenger molecules use genome information to trigger the production of proteins), gene therapies and regenerative medicine is being made, paving the way for the continued growth of this exciting field of medicine.
Advances in 3D bioprinting technology from companies such as Organovo have led to the creation of tissues that mimic key aspects of native tissues.
As a result, we may soon see the end of animal and human tissue use in clinical trials. In the longer term, it could create opportunities to "copy and paste" a patient's tissues to create replacement organs from their own cellular material, further eliminating the need to determine compatibility with the receiver.
Genome editing has emerged as one of the most exciting new areas of scientific research.
Recent advances have made it possible to modify, in a targeted way, almost any gene in the human body with the ability to directly turn on, turn off or edit disease-causing genes.
There is hardly anything more targeted than modifying your own genome to eliminate the cause of the disease, as opposed to simply addressing the symptoms.