Editor's note: More than 1,700 participants from 90 countries are attending the Summer Davos in Dailian, Liaoning province, from Wednesday to Friday. Their discussions will focus on transformational science, industry disruption, economic uncertainty, China's "new normal", environmental boundaries and "being human". A participant looks at the influence of technology and innovation on economic growth.
Although in the evolution of humanity, securing access to energy has been a critical enabler of development and improving quality of life. Thus secure and sustained energy access has been the primary objective of people responsible for energy systems.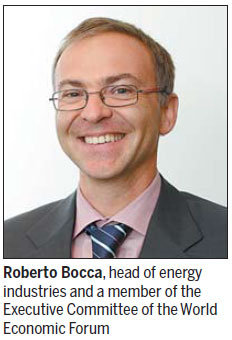 Beyond access, energy cost and affordability was the second priority for energy planners across the world, and now, relatively recently in the context of history, environmental sustainability has become the third leg of what we call the energy triangle.
What an energy system has to deliver to society is, in fact, secure access to sustainable and affordable energy, and what binds together these three elements is technology.
There are currently six critical factors that are affecting energy system transformations: modern technology, which is enabling the decoupling of economic growth from energy consumption; the digitization of energy systems; growing environmental awareness; the maturing of renewable energy to become mainstream in the energy portfolio; accelerating urbanization; and the increasing demand for better quality of life and energy from the expanding global middle class.
This requires a long-term vision and courage to take steps that may be costly in the short term but which will be beneficial toward long-term peace. The investment decisions taken today in energy and infrastructure will have an impact on society in the next 15 to 25 years.
For more sustainable energy use, it is not the abundance of resources but the abundance of data that is now the name of the game.
New technologies enable countries to reduce the amount of energy lost during transmission, intelligent distribution systems enable a more efficient calculation and use of energy supplies, and digital devices allow users to switch their energy use on and off at "just the right time".
In the recent past, China has led the world in rapidly enabling energy access to a fast growing population. The relatively low price of oil has made its relative affordability an opportunity for investments, instead of a necessity, in a world where the focus on sustainability is becoming increasingly relevant.
China's challenge now is to advance both technology and behavior to boost the next phase of economic and social development. The key to this is to take advantage of the opportunity presented by current conditions to make large-scale investments in technology focusing on innovation in sustainability.
For energy in particular, the opportunity to innovate both in technology and behavior will enable a better use of energy and a different way of conceiving energy.