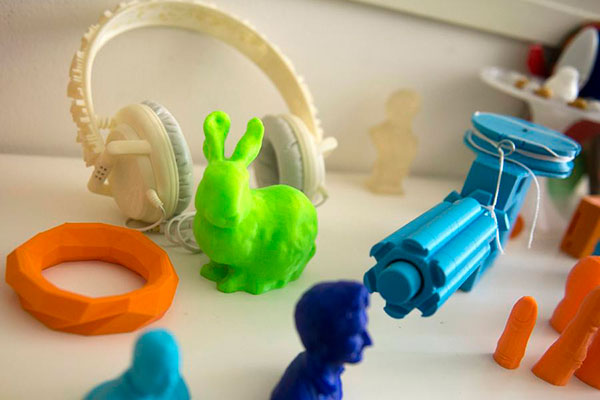 3D-printed objects are seen at the 3D Hubs office in Amsterdam September 2, 2014.[Photo/Agencies]
BEIJING - In Beijing's suburban Huairou district, Chinese engineers in an economic and development zone hope to make 3D printers a household item and transform China's economy in the process.
One of about 300 companies located in the zone, Beijing Tiertime Technology Co Ltd, China's first 3D printer exporter and Asia's largest 3D printer producer, could help reshape consumption habits in the world's most populous nation.
The company sells tens of thousands of printers to more than 40 countries every year. Its 150-plus employees print products layer by layer, ranging from toys and cartoon figures to mobile phone shells and home decor.
Students, entrepreneurs and hobbyists with specialized demands can create tailored designs using Tiertime's microwave-oven-sized desktop machines.
Unlike the refrigerator-sized industrial 3D printers that are mainly used to print metals, the much smaller desktop machine targets ordinary consumers to use its rapid prototyping technology, with prices ranging from 3,000 to 20,000 yuan (around $470 to $3,146).
Since 2012, when the Economist predicted that 3D printing, or additive manufacturing, would trigger a third industrial revolution, Tiertime's revenues have jumped at an annual rate of 40 to 50 percent, with its output topping 100 million yuan last year.
The desktop 3D printers used in the consumer market represent one of the technology's four major uses, along with industrial, biological and artistic applications, according to Lin Feng, professor and deputy director of the Biofabrication and Rapid Prototyping Technology Laboratory of Tsinghua University.
Those with knowledge of materials and modeling technology have recognized the opportunities. In the past three years, hundreds of Chinese companies have started producing desktop 3D printers.
From 2012 to 2014, output of China's 3D printing market expanded three to four times from 1 billion yuan, according to Luo Jun, secretary of the World 3D Printing Technology Industry Alliance.
Luo estimated that the industry has the potential to reach 10 billion yuan in 2016.
The thriving Chinese 3D printing industry has kept pace with global peers. According to market research firm Canalys, almost 133,000 3D printers were shipped worldwide in 2014, representing a whopping 68-percent increase over the previous year, and total market revenue topped $3.3 billion, up 34 percent.
"We've seen the 3D printing industry go from strength to strength in 2014... particularly in the consumer segment, with many users buying their first 3D printer," Joe Kempton, a research analyst with Canalys, told 3D.com. Kempton expects falling prices, new technology and improved printing speeds to fuel demand in the future.