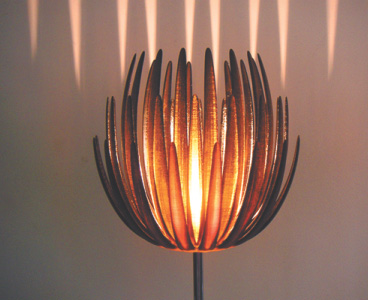 A lotus-shaped light produced with the help of 3-D printing technology. [Photo provided to China Daily]
With over 20 years of fast growth, 3-D printing has evolved from being just a definition found in textbooks, to a widely applied technology that is certain to generate more profits for companies in the future.
According to global technology advisory company Gartner, 3D printing is one of the top 10 strategic technology trends for this year. Likewise, technology consultancy firm IDC said in its latest report that 3-D printing will see significant activity among conventional document printing companies as they lay the groundwork for a looming battle for commercial and industrial markets in 2016.
The cost of 3-D printing is expected to gradually go down in the next three years and this in turn will trigger fast growth in the low-cost equipment market, said industry sources. Companies in sectors related to biomedical engineering and consumer-related industries are expected to benefit the most from the lower printing costs. In addition, with designs becoming more accurate, prototypes more reasonable and production flow more refined, 3-D printing will become a more reliable and profitable way of production, the IDC said.
The strong growth in the sector has also stirred interest among conventional printing giants. Technology company Hewlett Packard, for example, is clearly looking at the longer-term horizon, especially a strong acceleration in the value-add segments or in brand new markets which include 3D printing, big data analytics and the like, according to Chrystelle Labesque, research manager of the Personal Computing department at IDC Europe, the Middle East and Africa.
Colorado-based independent 3D printing consulting firm Wohlers Associates expects worldwide revenue from the 3D printing industry to reach $12.8 billion by 2018. Revenues from all products and services in the industry should exceed $21 billion by 2020, the consultancy said.
The market for 3-D printing, consisting of all products and services worldwide, grew to $3.07 billion in 2013. The compound annual growth rate of 34.9 percent is the highest in 17 years. The growth of worldwide revenues over the past 26 years has averaged 27 percent. The CAGR for the past three years between 2011 and 2013 was 32.3 percent.
Wohlers Associates believes strong growth in the industry will be fueled partly by sales of under $5,000 "personal" 3-D printers. An even bigger factor will be the expanded use of the technology for the production of parts, especially in metal, that go into final products.
Tim Caffrey, senior consultant at Wohlers Associates said: "The industry is transitioning from a prototyping past to a production future. Opportunities for additive manufacturing in production applications are of magnitude greater than for modeling and prototyping. The money is in manufacturing, not prototyping."
"The industry is experiencing change that we have not seen in the 20-plus years of tracking it. What is most exciting is that we have barely scratched the surface of what is possible," he said.