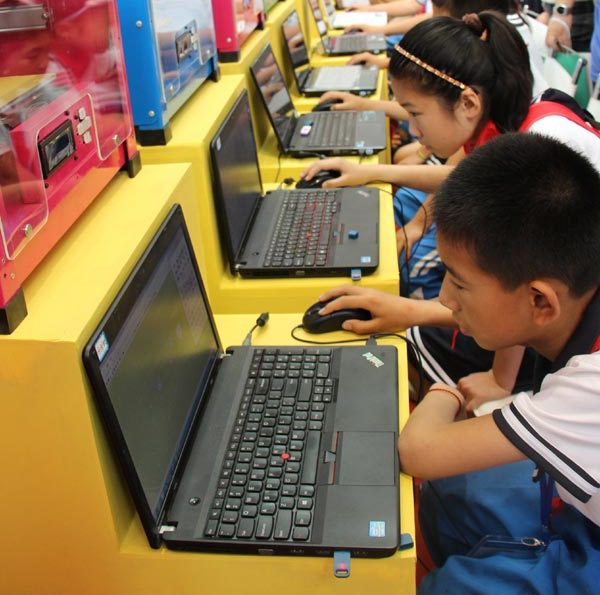 Children experience 3-D printing technology at the booth of Qingdao Unique Products Develop Co Ltd, a local maker of 3-D printers, at the 2014 World 3-D Printing Technology Industry Conference & Exhibition. Provided to China Daily
China on track to become world's biggest market in three years, say industry sources
China is on track to become the world's biggest 3-D printing market by turnover - in the best-case scenario - three years from now, industry sources said on Thursday.
However, to achieve this it needs to quickly embrace additive manufacturing technology, better known as 3-D printing, to add flexibility and boost innovation.
"China's appetite for 3-D printing technology has been surging immensely since last year. Increasing demand has given the nation momentum to become the world's No 1 in the next three to five years," said Graham Tromans, president of the United Kingdom-based 3-D printing consultancy G. P. Tromans Associates.
The United States is the current No 1 market for 3-D printing.
Although technology storage for Chinese 3-D printer manufacturers is "slightly behind" that of the leading brands in the US, local players are working hard to catch up with the international standard, Tromans said.
Chinese vendors are already making significant strides in the global arena with "the biggest" or "world's first" 3-D printing projects.
Qingdao Unique Products Develop Co Ltd, a local maker of 3-D printers, unveiled the world's largest printer on Thursday. The machine's first task is to print a 12 meter-high Temple of Heaven model using fiber reinforced plastic.
Once built, it will be the world's biggest structure constructed by additive manufacturing technology.
Company founder Wang Hong said research abilities are its core competitiveness, and indicated that it would also expand into other sectors like the medical, design and creative culture markets in the future.