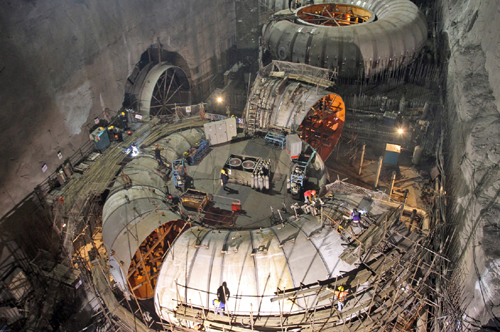 Electromechanical Equipment Installation at the Xiluodu Hydropower Station.
YICHANG - China's second-largest hydropower station started full operation on Tuesday after its last generating unit completed a three-day test run late on Monday.
With 18 large generators and a total capacity of 13.86 gigawatts, Xiluodu is the world's third-largest station after the Three Gorges and Itaipu hydroelectric projects, according to its operator, China Three Gorges Corporation.
The station can generate 57.1 billion kwh of electricity a year, which can replace 20 million tons of coal and reduce greenhouse gas emissions of 48 million tons.
Construction of the Xiluodu hydropower station, located in the Jinsha River, a major headstream of the Yangtze in Southwestern Yunnan and Sichuan provinces, started in 2005.
Since the first generating unit began to work in July last year, the Xiluodu station has produced 23.4 billion kwh of power.