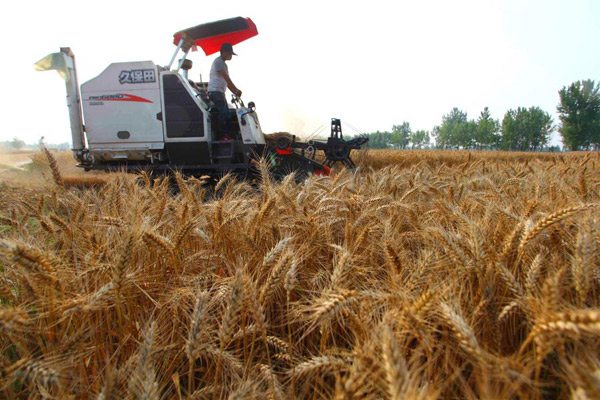 A man drives reaper to work in a field of wheat in Shangshui county, Zhoukou city, Henan province, June 3, 2014. [Photo/Xinhua]
BEIJING
- More effort will be made to speed up China's agricultural modernization, ensure the nation's food security and increase farmers' incomes, Chinese Vice Premier Wang Yang said on Tuesday.
China will modernize its farms to support sustainable and healthy development of the economy and society, Wang said at a seminar in Harbin, capital of Northeast China's Heilongjiang province.
China should bolster the development of large-scale farming, improve agricultural infrastructure, enhance technology in agriculture, strengthen agricultural resources and environmental protection, said Wang.
It should also improve labor productivity, global competitiveness and the sector's capability for sustainable growth, deepen reforms and establish an innovation system in rural areas, he stressed.