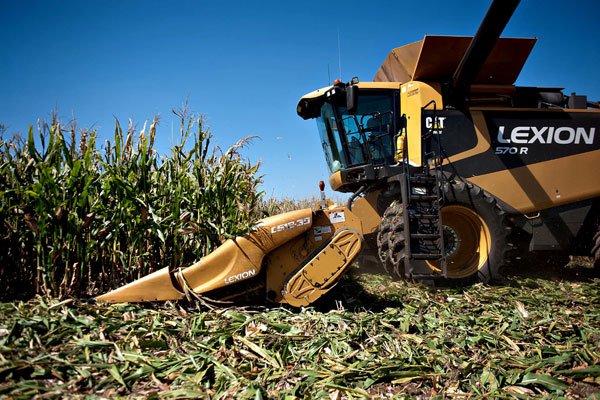 A farmer harvests corn in Le Roy, Illinois. The US became China's biggest supplier of agricultural products in 2013, according to the US Department of Agriculture. Daniel Acker / Bloomberg
Tapping global agricultural market will pay off, experts say
Farmers in the United States will continue to be big beneficiaries of China's surging demand for international agricultural products this year, soybeans, corn and meat in particular.
"China's policies have pushed the country to purchase more agricultural products from the US, and this trend will be maintained over the next several years," said Peng Yufa, a researcher at Beijing-based Chinese Academy of Agricultural Sciences.
The US became China's biggest supplier for agricultural products in 2013, shipping $23.5 billion worth of grain, meat, fruit and dairy products to China, according to the US Department of Agriculture.
Peng said China's subsidies on seeds and fertilizer, guaranteed
mini
mum government purchase prices and technical support encouraged farmers in its main rice and soybean-producing regions to plant more staple grains over the past several years.
"Moreover, higher domestic prices for corn and rice further cut into planting of soybeans and naturally opened a door for the rush of imported US soybeans," said Zhang Xiaoping, director for China at the US Soybean Export Council.
Last year, China imported 84 million metric tons of agricultural products from the world market, including 14 million tons of corn, wheat and rice, about 2.6 percent of the nation's total domestic cereal output. The country's soybean imports rose 8.6 percent year-on-year to 63.38 metric million tons, mainly from the US and Brazil, and accounted for more than 80 percent of China's domestic demand.
The USDA predicted that China will continue to be the US' top agricultural export market in 2014, taking an estimated $25 billion of its agricultural products.
More than 124 million metric tons of corn and 11.7 million tons of wheat were consumed by Chinese livestock in 2013, showing a 5 percent and 7.2 percent increase, respectively, from the previous year, according to the Beijing-based China Feed Industry Association.
"Rising US corn and wheat imports can help China enhance its grain security and make sure the country will have enough arable land to grow vegetables and fruit," said Xu Xiaoqing, head of the agricultural economics department of the State Council's Development Research Center.
Don't miss: