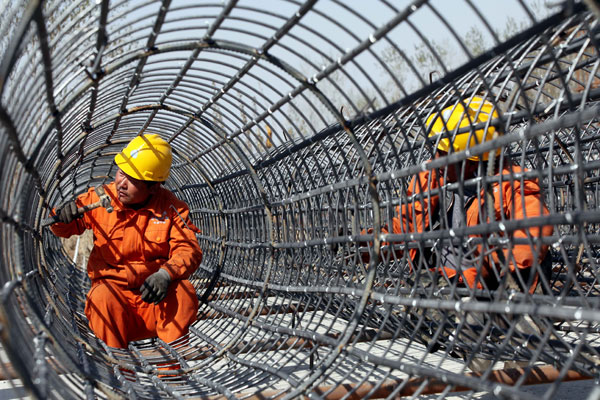 Workers prepare steel frames for a bridge on the Lianyungang-Yancheng railway in Ganyu, Jiangsu province. The State Council announced pro-growth measures on April 2, including railway investment and urban renovation programs. SI WEI/CHINA DAILY
Analysts say economy is on the mend after a weak start for industrial output
The World Bank has lowered its forecast for China's economic growth this year to 7.6 percent from 7.7 percent, taking into account soft data on industrial output and exports in the first two months of the year, the multilateral organization said in a report on Monday.
It has maintained its 2015 forecast at 7.5 percent.
The bank said: "While the growth rate of industrial production has slowed, and exports contracted in the first two months of 2014, the trend is nevertheless strengthening, and we expect quarterly growth to rise at midyear as external demand from the high-income countries solidifies."
Some analysts have said that the Chinese economy probably began to rebound in March, although first-quarter growth may fall though the government's "bottom line" of about 7.5 percent. These analysts estimated first-quarter GDP growth at 7.2 to 7.4 percent.
But the economy is on the mend, and that will be evident in the second-quarter figures, which will get a lift from the government's "fine-tuning", said a report from The Australia and New Zealand Banking Group Ltd.
The State Council, the country's cabinet, announced pro-growth measures on April 2, including railway investment, urban renovation programs and tax breaks for small businesses. Analysts said those steps indicate the government aims to avoid a sharp slowdown and stabilize near-term growth.
Power generation, rail cargo volumes and crude oil processing activity in March all showed signs of improvement. Surveys also found rising business confidence.
According to the National Development and Reform Commission, from March 1 to 24, electricity output increased 8.4 percent year-on-year, compared with 5.5 percent growth in the first two months.
Further evidence of an economic rebound came in stronger export data, in the form of higher orders in the official and HSBC Holdings Plc manufacturing Purchasing Managers' Indexes for the first two months.