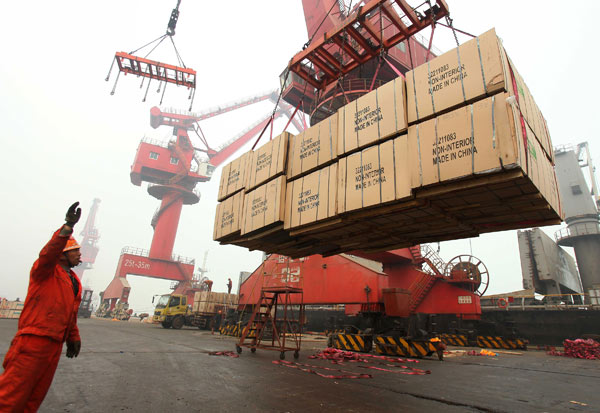 Dock workers move cargo at a port in Lianyungang, Jiangsu province. [Photo by Wang Jianmin / Xinhua] 
BEIJING
- Morgan Stanley has maintained its forecast on China's economic growth this year at 7.2 percent as a slowdown in the first quarter seems likely.
Helen Qiao, Morgan Stanley's chief greater China economist, is cautious on the economic outlook due to uncertainties in the global recovery.
Morgan Stanley estimated the increase of China's gross domestic product (GDP) for 2014 at 7.1 percent last September, and raised it to 7.2 percent two months later.
The projection was mainly based on weak demand. "External demand recovery will not be significant," Qiao said, "and financial tightening in the last quarter of 2013 will likely weigh on domestic demand growth."
The economy has shown signs of shrinkage in growth since the beginning of the year. The HSBC manufacturing purchasing managers' index (PMI), a key measure of factory activity, registered an eight-month low in March, while the official PMI reading saw feeble growth.
Research institutions started to lower their estimates for the Jan.-March period last month. Economists from both China International Capital Corporation and the Bank of Communications gave an estimate of 7.3 percent.
Despite grim market sentiment and increasing downward pressure, Qiao sees no need to read too much into poor economic indicators, or be over pessimistic about prospects for the full year.
Things may look up after March, she said.
Qiao expects the global economy to continue its slow recovery this year, while developed nations will overtake emerging markets as major contributors.