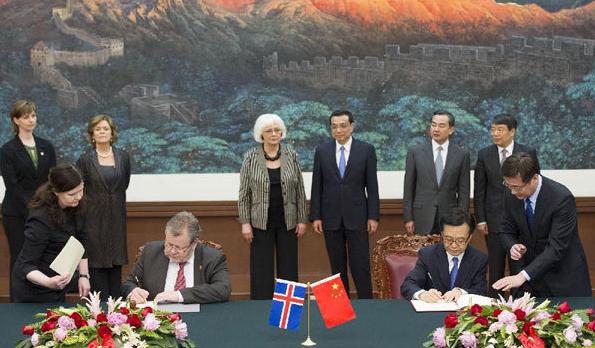 Chinese Premier Li Keqiang (3rd R back) and Iceland Prime Minister Johanna Sigurdardottir (3rd L back) attend a signing ceremony of documents in Beijing, capital of China, April 15, 2013. [Photo/Xinhua]
REYKJAVIK - As the free trade a
gree
ment (FTA) between China and Iceland came into force Tuesday, Icelandic companies believe the FTA will lower consumer prices in Iceland and boost the trade between the countries.
According to the FTA, China will implement zero tariff on goods under 7,380 tariff numbers imported from Iceland, which accounted for 81.56 percent of China's total imports from Iceland, including its aquatic products after the agreement coming into effect.
Meanwhile, Iceland will implement zero tariff on all industrial products and fishery products imported from China which accounted for 99.77 percent of the total China's exports to Iceland.
After the final establishment of the FTA between China and Iceland, zero tariff shall apply to 96 percent of goods in terms of tariff number, or 100 percent in terms of trade volume.
Huge market open to Icelandic fishery
Adolf Gudmundsson, chairman at the Federation of Icelandic fishing vessel owners, believed the free trade agreement would be of great importance for the fishing companies in Iceland.
"China, the biggest market in the world, is opening up for Icelandic seafood products," Gudmundsson explained.
"The Chinese market will offer enormous opportunities for the Icelandic companies," he said. He added that it will of course be important that Iceland is able to offer competitive prices.
"I believe the free trade agreement will bring good fortune to both Iceland and China and strengthen the Icelandic fishing industry," Gudmundsson said.