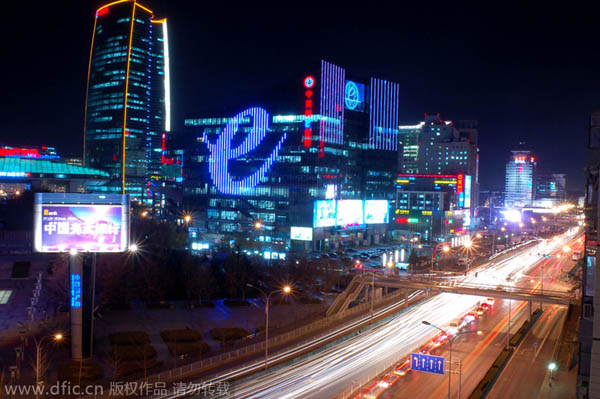 Night view of Zhongguancun Haidian Science Park, known as China's "silicon valley", in Beijing, China, Nov 28, 2008. [Photo/IC]
The Zhongguancun Stock Index, China's first high-tech benchmark index that reflects the performances of listed companies registered in the Zhongguancun high-tech science park in Beijing, debuted on the Shenzhen Stock Exchange on Thursday.
The listed companies in the bustling Zhongguancun saw a 64 percent growth in their market values in 2013, exceeding the 33 percent gain of the New York-based Nasdaq Composite during the year.
"The Zhongguancun Stock Index accurately represents the level of innovation in China's science and technology sector. With the support of the Shenzhen Stock Exchange, the launch of the index marks a significant step forward," said Zhang Gong, the vice-mayor of Beijing.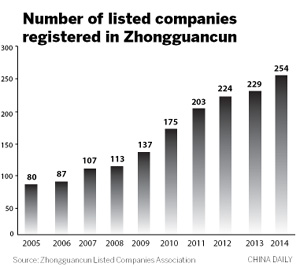 "The index will help Zhongguancun science park build a brand on the international capital and innovation market as well as enhance its ability to become one of the world's most influential scientific and innovation centers."
A total of 257 companies were registered in Zhongguancun as the index went live, 159 of which were listed in Chinese mainland and 98 were listed overseas, according to Zhongguancun Listed Companies Association. The foreign companies are listed on exchanges in the United States, Singapore, Hong Kong, the United Kingdom and Germany.
Overseas-listed companies account for more than 20 percent of China Concept Stocks, those whose assets or earnings have significant activities in China.
The Zhongguancun Stock Index is made up of the Zhongguancun A-share index that trades on Shanghai and Shenzhen stock exchanges, and the Zhongguancun 50 Index that reflects the performances of 50 representative companies.
Companies from the high-end equipment manufacturing, biological pharmaceutical, new materials, and new energy automobile sectors make up 76 percent of the firms included in the Zhongguancun 50.
As of Jan 31, the Zhongguancun 50 and the Zhongguancun A-share index had accumulated yields of 178.18 percent and 191.46 percent respectively, nearly double the rate of return of the Shanghai and Shenzhen 300 Index.
"The Shenzhen Stock Exchange is aiming to help build a multi-layered capital market. More than 60 Zhongguancun companies are listed on the startups board of SZSE, which specifically works to help startup companies grow," said Wu Lijun, chairman of the Shenzhen Stock Exchange.
Companies included in the Zhongguancun A-share Index and the Zhongguancun 50 are selected based on market value and liquidity, and investment potential. The indexes will be adjusted twice a year.
The Zhongguancun Listed Companies Association is also expected to develop separate indexes for startups, US-listed companies and Hong Kong-listed companies.