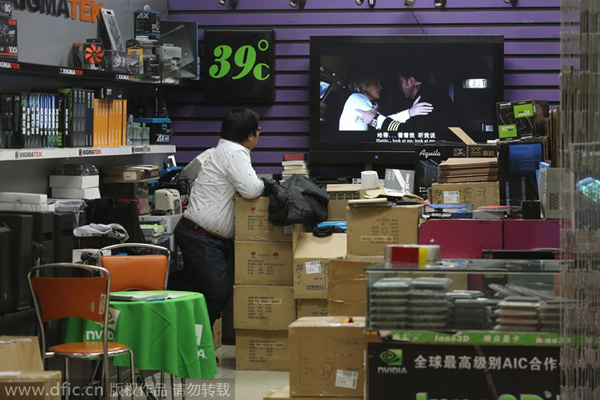 A shop owner watches movie to pass time in an empty electronics mall in Zhongguancun, Beijing, Jan 31, 2015. [Photo/IC]
Tough times for traditional shopkeepers as online sales blossom
Hunched over the counter of his tiny, gadget-filled stall in Beijing's vast Hailong Electronics City, Wang Ning bemoans a week without a single sale.
"It's dying," said Wang, shaking his head as he looks out at abandoned stores and torn promotional posters in what was once the busiest market in the Zhongguancun area, known as China's silicon valley.
"There are more sales staff than customers around here. Everyone buys online now."
The floors are dotted with shuttered shops, victims of the rise of Internet-based businesses like Jack Ma's Alibaba Group Holding Ltd and billionaire Richard Liu's JD.com Inc, which started out in Zhongguancun almost two decades ago.
The online revolution promises to boost productivity and could create 46 million new jobs in China by 2025, many of them higher-skilled, according to a report by New York-based McKinsey & Co in July. The losers will be as many as 31 million traditional roles, the equivalent of the entire employed population in the United Kingdom.
While such creative destruction is a global phenomenon, its speed and scale in China are unparalleled, said Cao Lei, director of the China E-Commerce Research Center, a private research agency based in Hangzhou, the hometown of Alibaba.
"The Internet helps improve productivity and efficiency, but it can be quite painful for traditional businesses," Cao said. "Bookstores fail first, then clothing chains, then consumer electronics stores, then air-ticket booking offices, and in the future, bank branches and other traditional services facilities may fail."
The shift online could contribute up to 22 percent of the nation's productivity growth by 2025 and make up between 7 percent and 22 percent of the total increase in gross domestic product from 2013 to 2025, McKinsey found. By 2025, that could translate into as much as 14 trillion yuan ($2.2 trillion) in annual GDP.