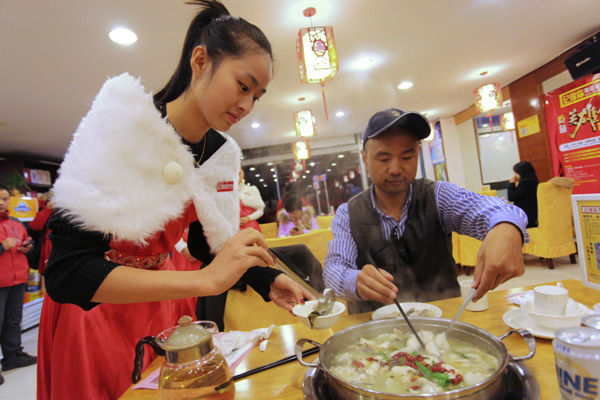 A waitress serves fish at a restaurant in Suzhou, Jiangsu province. The services PMI slowed to a six-month low in January, falling to 51.8 from 53.4 in December. [Photo provided to China Daily]
Growth in new orders slows despite marginal rise in manufacturing activities in January
Services activity expansion slowed to a six-month low in January, with the services Purchasing Managers Index falling to 51.8 from 53.4 in December, HSBC Holdings Plc said on Wednesday.
New order growth at services providers slowed at the start of 2015, having eased further from November's two-and-a-half year peak, the bank said.
Although job creation accelerated in the services sector in January, manufacturing employment declined, with workforce numbers increasing marginally at the composite level.
Though the manufacturing PMI slightly improved to 49.7 in January, compared to 49.6 in December, it still remained at the contraction level for two consecutive months.
The official data showed a contraction in the manufacturing sector and a slower expansion in the services industry, indicating sluggish growth momentum during the first quarter.
A manager from Shunxuan Plastic Product Co Ltd in Dongguan, Guangdong province, said that the number of rural migrant workers in factories in the Chang'an town are less than half the number seen in 2014.
"Dwindling output at factories has meant less worker retention. This also means that there will be less people returning home for the holidays," he said.