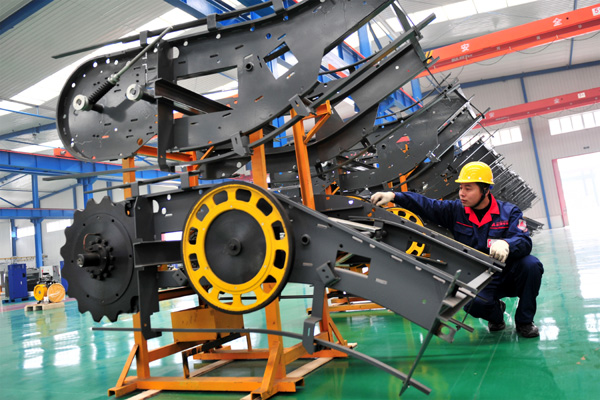 A worker checks an elebator component at a high tech industry zone in Yichang, Hubei province. China's manufacturing Purchasing Managers Index in January weakened to a 28-month low of 49.8 from 50.1 in December. [Zhang Guorong/China Daily]
Economists speculate on more modest target after surprise fall in PMI to 28-month low
An unexpected contraction of manufacturing in January has raised speculation about the bottom line of GDP growth that the government can tolerate, given the "new normal" situation confronting China.
The manufacturing Purchasing Managers Index in January weakened to a 28-month low of 49.8 from 50.1 in December, the National Bureau of Statistics reported on Sunday.
Economic expansion of 6 to 7 percent in 2015 and the coming years will be enough to achieve the long-term target in 2020: an economy of more than 80 trillion yuan ($12.9 trillion at current exchange rates) or double the size in 2010, said Yu Bin, director of the department of macroeconomic research at the State Council's Development Research Center.
He discussed the "bottom line" on Monday at a news conference in Beijing, stressing that the government can stabilize growth within a reasonable range this year.
According to Yu, this year and next will be the optimum period to improve structural reforms and make the growth pattern of the world's second-largest economy more sustainable.
"China's high-speed growth era is over. Limited resources and a polluted environment have left less room for policy to pursue high-speed development," said Yu.
Given the downside risks, an increasing number of economists believe that the government may cut this year's growth target to 7 percent from 7.5 percent.
Last month's PMI contraction was worse than the market had expected. Most sub-components showed signs of a cyclical slowdown.
"The fall in the official PMI is consistent with our expectations that growth in the first quarter will likely be weak," said Song Yu, an economist at the Goldman Sachs Group Inc. "The likelihood of further loosening measures has increased."