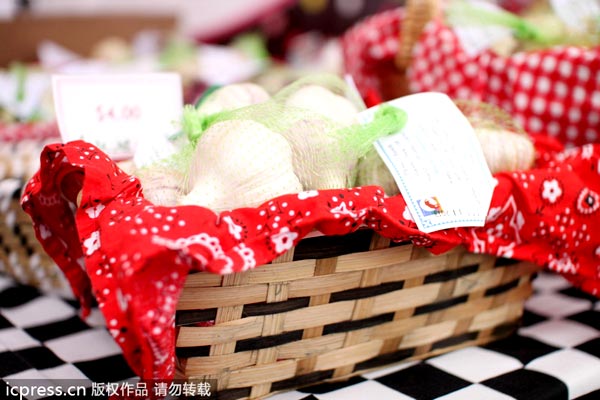 Garlic can significantly reduce the contamination risk of Cronobacter sakazakii, a foodborne pathogen that can lead to fatal infections of infants, in the production of dry infant formula powder, according to a new Canadian study.[Photo/IC]
Garlic farmers in Lanling county, Shandong province, have urged South Korean President Park Geun-hye to intervene in a dispute between the Chinese sellers and South Korean importers.
The farmers posted an open letter to Park on Tuesday to demand fair treatment and to insist she resolves the ongoing legal dispute, which came to a head after a huge Chinese shipment of the crop was rejected by a government agency last month.
The state-run Korea Agro-Fisheries and Food Trade Corp refused to approve the import of 2,200 metric tons of garlic shipped by exporters in Lanling in January because of what they called quality issues, resulting in a loss of more than 10 million yuan ($1.59 million) for the farmers.
According to the open letter, the farmers insist all the garlic from Lanling was carefully selected based on the requirements of the tender document, and their shipments followed the instructions given by the South Korean authorities.
"We hope that you - President Park Geun-hye - can understand our heartbreak and the great financial losses involved. We and our relatives are extremely upset as the Chinese Lunar New Year is approaching. We are willing to appeal to a South Korean court against the inadequate decision made by Korea Agro-Fisheries and Food Trade Corp," the open letter said.
Eager to resolve this dispute, China's Ministry of Commerce posted a statement on its website on Wednesday, saying it had asked the economic and commercial counselor's office at the Chinese embassy in Seoul, and the provincial commerce department in Shandong to assist the exporters and farmers communicate with the South Korean government to settle the matter.
Categorizing the issue as a trade contract dispute, the ministry's department of foreign trade also urged its Asian neighbor to find a solution.
The Chinese exporters and farmers said what they cannot accept are the inconsistent excuses given by South Korea. The Korea Agro-Fisheries and Food Trade Corp had given a quality inspection certificate before the delivery of the product. However, after the first batch of garlic arrived in Busan in December, the country's agriculture department said the products were unqualified.