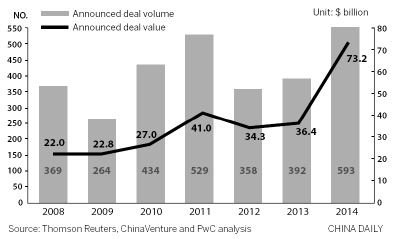 PricewaterhouseCoopers said 2014 was a banner year for new private equity investments in China and the scale will remain robust in 2015.
According to a report by PwC released on Thursday, 593 deals were made in the Chinese PE sector in 2014, up 51 percent on the previous year, and the value totaled $73.2 billion, up 101 percent.
Globally, there was only a 10 percent increase in PE deal value.
China was the single largest PE investment destination in Asia from 2008 and accounted for 41 percent of Asian PE deal value in 2014.
The report also said the number of total Chinese venture capital deals rose 81 percent to 1,334, a record since 2008.
"The reform of State-owned enterprises played a major part in the record figures, but outbound deals, on a significant scale for the first time, also contributed," said Larry Nie, a PwC partner.
Nie said that PE investors will play a more important role in SOE reforms in the coming years.
The report showed outbound investment by local PEs and financial buyers almost doubled from 25 deals in 2013 to 49 deals in 2014. Outbound deal value reached a record high of $14.3 billion, up 1,300 percent.
"PE investments reached a record high in 2014 as funds sought overseas businesses with a strong China connection for their portfolios," said Ni Qing, a PwC partner dealing with private equity.
Ni said the big players in China are emerging to compete with their global peers and they are seeing a step-up in outbound M&A involving some of the preeminent Chinese PEs. The outbound trend is happening much faster than many people expected or have realized.