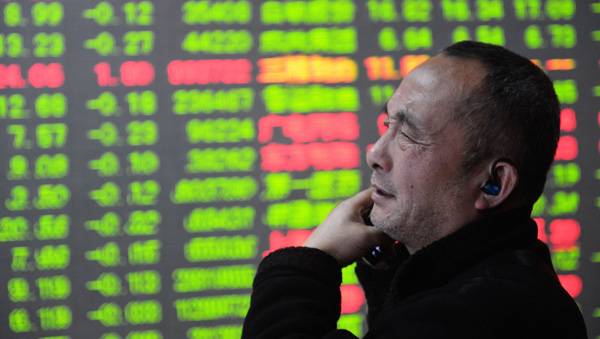 An investor checks stock index in a local brokerage firm, at Hangzhou city, Zhejiang province, Feb 5, 2015. [Asianewsphoto by Long Wei]
The liquidity stimulus effort by the People's Bank of China failed to impress investors on Thursday as the mainland stock market edged down eventually after a short-lived intraday jump.
Analysts said the market will continue to face growing selling pressure on investors' concerns of a new wave of new share sales in the coming weeks and the deleveraging trend in blue-chip stocks.
The Shanghai Composite Index declined by 1.18 percent from a high opening to close at 3,174.13 points.
The central bank announced a reserve requirement ratio cut for the country's banks on Wednesday night, triggering speculation that the liquidity injection will help boost the stock market which has been under correction over the past two weeks.
Contrary to belief that financial and property stocks will benefit from the monetary easing, shares of banks and developers fell the most as investors continued to jettison blue-chip stocks.
Li Daxiao, chief economist at Yingda Securities Co Ltd, said the market reaction indicated that the expectation of monetary loosening is already factored in the current stock prices as the Shanghai Composite Index rallied more than 1,000 points after the central bank cut interest rates in November.
"The RRR cut by the central bank only helped to slow down the recent decline, but it did not change the fact that the market mood is cooling after the previous rally," he said.
The stock market entered a period of correction after the country's securities regulator punished a slew of securities companies for their illegal conduct in the margin trading business.
The move has been interpreted as the regulator's desire to deleverage the market to contain risks and prevent sharp volatility.
Some investors started to switch from blue-chip companies to high-growth ones with smaller capitalization as the startup board ChiNext outperformed the general market on Thursday, up by 0.94 percent.