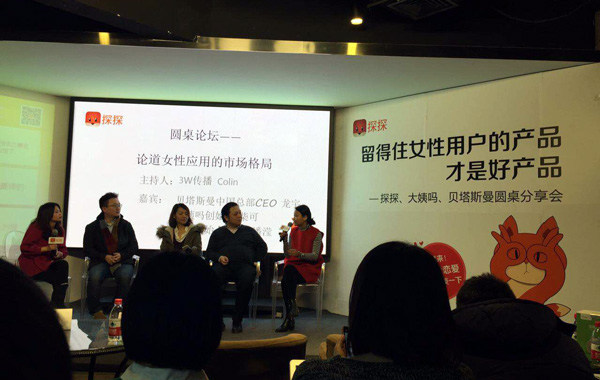 A round-table discussion called "a good app is a product that retains female users" was held on Jan 27, 2015 at the Beijing 3W café. [Photo provided to chinadaily.com.cn] 
A round-table discussion called "a good app is a product that retains female users" was held at the Beijing 3W café, known as start-ups' colony, at the end of January.
During the panel talk, Tantan, a social networking app launched in 2014, was the key topic.
The app received $5 million in new round of investment lead by Bertelsmann Asia Investments, an investment arm of Bertelsmann AG, in January this year.
"We believe male users are still dominant players in the existing location-based social networking apps, so building an app that focuses on female-friendly features was our top priority," said Pan Ying, co-founder of Tantan.
According to Pan, Chinese social networking apps such as MoMo or WeChat service that lets nearby people connect or messenger service backed by Chinese Internet giant Tencent are more or less location-based apps, while women are usually wary of using these apps to connect with strangers.
In January, Internet consultancy firm iResearch said that female apps saw a rocketing growth last year, as many subsections such as female health, e-shopping, parenting and makeup, started apearing.
According to tantanapp.cn, a webpage promoting Tantan app, it will show its subscribers profiles of nearby users' based on their location, distance and gender preferences, and users can then swipe to like or ignore people suggested on their phones, and it will become a match if a user likes back.
The app believes that it will help users build confidence to greet strangers who are highly likely to reply. It promises that users will only have to chat with those who match their preferences and users can also hide their contacts.
"Users who register via their mobile phone numbers are calculated as our subscribers. From last September to January this year, we've reached nearly one million subscribers and 20 percent to 25 percent of them are active daily," Pan added.
"Although it's getting better with the young generation, Chinese are still bashful when they chat with strangers. What we are trying to do is to help people to work out what they are going to say after hello," said Wang Yu, husband of Pan Ying, a co-founder of Tantan.