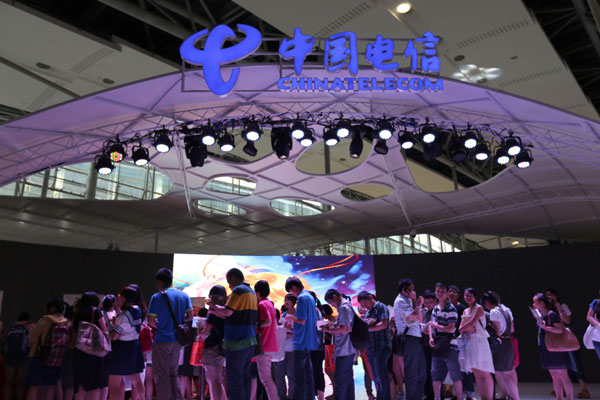 China Telecom promotes its 4G services in Guangzhou, Guangdong province. The company is seeking private investors for emerging telecommunications services such as online payments and social networking. [Liu Jiao / For China Daily]
Telecommunication giant China Telecom has partnered with publicly listed French technology group Alcatel-Lucent to improve China's public cloud computing services by improving user safety and adding network capacity.
China Telecom, through its Cloud Computing Branch, has selected Alcatel-Lucent's Nuage Networks startup to reinforce the security of its cloud system. The technology provided by the overseas company is expected to enable full network isolation to prevent cyber attacks spreading to other users in the system.
Additionally, the introduction of new technology will support the use of more virtual machines per server, improving the capacity of the network.The companies did not disclose the financial details of the deal.
The State Council previously said it was planning to spur the use of cloud computing services in public infrastructure and State-owned enterprises. China will build a "world-class" cloud-based service power by 2020, according to the State Council.
Key sectors in the Chinese economy, including logistics, energy and retail, will adopt cloud technology to boost their efficiency, said industry researcher IDC. Policy supports from regulators will also push the popularity of the cloud technology in 2015, it said.
China became the world's largest e-commerce market in 2013 with an online spending of $307 billion, outpacing the US market figure of $263 billion, according to a Forrester report.