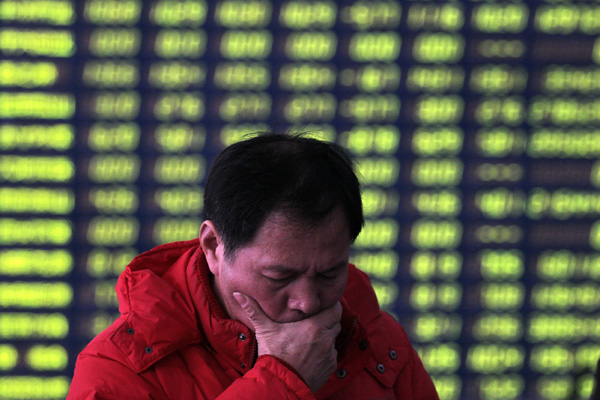 An investor checks stock index in a local brokerage firm, at Nantong city, Jiangsu province, Jan 19, 2015. [Xu Congjun/Asianewsphoto]
Chinese stocks edged down on Thursday with the benchmark Shanghai index sliding 1.2 percent, despite the central bank's announcement of its first cut on bank reserve requirement in over two years.
The Shanghai Composite Index closed at 3,136.53, down 37.6 points, while Shenzhen Component Index retreated 0.5 percent or 50.97 points to 11,065.58.
Steel shares led the loss on Thursday, with Shougang Steel, Fangda Special Steel and Anyang Steel tumbling more than 4 percent, as concerns persist among investors as to the effectiveness of the eased liquidity.
The People's Bank of China announced a system-wide cut to bank reserve requirements ratio by 50 basis points on Wednesday, to fight off economic slowdown.
Securities stocks rallied on Thursday, with China Merchants Securities and Huatai Securities jumping 8.1 and 2 percent respectively.
"Financial sectors will be the biggest beneficiary of the RRR cut," said Vincent Chan, the Hong Kong-based head of China research at Credit Suisse, in a note, adding that banks' earnings are expected to be boosted by the lower RRR and insurance companies will benefit from a stronger stock market.
Credit Suisse estimates the cut to bank reserve requirement would in result release 650 to 680 billion yuan of liquidity into the system, which should smoothen China's short-term interest rates.
The reduction follows a surprise rate cut by the PBOC in November last year, when the one-year benchmark lending rate fell 40 basis points to 5.6 percent to stimulate the economy.
"We expect two RRR cuts and two interest rate cuts in 2015," said Tao Dong, chief economist for Asia excluding Japan at Credit Suisse, in a note on Thursday, adding that doubts remain as to the immediate impact of the RRR cut on the economic growth.
Related story: China cuts bank reserve requirement to spur growth by Agencies
China's central bank made a system-wide cut to bank reserve requirements on Wednesday, the first time it has done so in over two years, to unleash a fresh flood of liquidity to fight off economic slowdown and looming deflation.