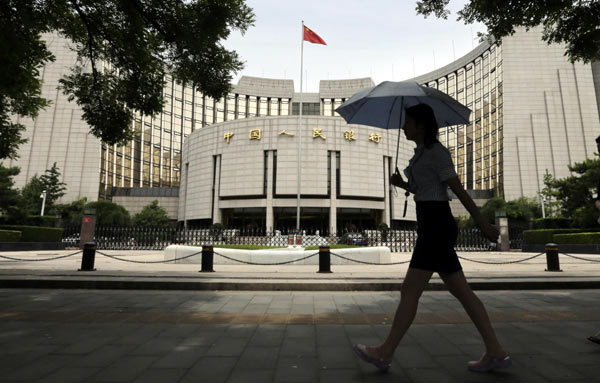 A woman walks past the headquarters of the People's Bank of China (PBOC), the central bank, in Beijing, in this file picture taken June 21, 2013. [Photo/Agencies]
China's central bank made a system-wide cut to bank reserve requirements on Wednesday, the first time it has done so in over two years, to unleash a fresh flood of liquidity to fight off economic slowdown and looming deflation.
The announcement cuts reserve requirements - the amount of cash banks must hold back from lending - to 19.5 percent for big banks, a reduction of 50 basis points that would free up 600 billion yuan ($96 billion) or more held in reserve at Chinese banks - which could then inject 2-3 trillion yuan into the economy after accounting for the multiplying effect of loans.
"The central bank has tried to use short-term policy tools to inject more liquidity, but such tools were not enough, so it has to cut RRR," said Wen Bin, senior economist at Minsheng Bank in Beijing, adding that signs of increasing capital outflows and a sliding domestic currency were particularly worrying.
The reduction follows a surprise cut to guidance lending rates by the People's Bank of China (PBOC) in November, but that adjustment had negligible impact on spurring productive investment, so many had predicted the more dramatic move that the central bank has now delivered.
"Today's announcement isn't a surprise," wrote Mark Williams of Capital Economics in a research note reacting to the news.
"It is consistent with the more accommodative stance being taken since the benchmark interest rate cut."
Officials had previously said they would wait for fourth quarter data to be released before deciding on further easing measures, and that data gave little cause for comfort.
An official survey of China's mammoth factory sector, the purchasing managers index (PMI), showed it shrank unexpectedly for the first time in nearly 2-1/2 years in January, and other indicators have also been worrying, including signs of strengthening capital outflows and a weakening in China's service sector.
"The main reason was that the PMI was much lower than expected in January, so if there is no further policy reaction, it's very likely that China's Q1 GDP growth could fall below 7 percent," said Liu Li-gang, an economist at ANZ.