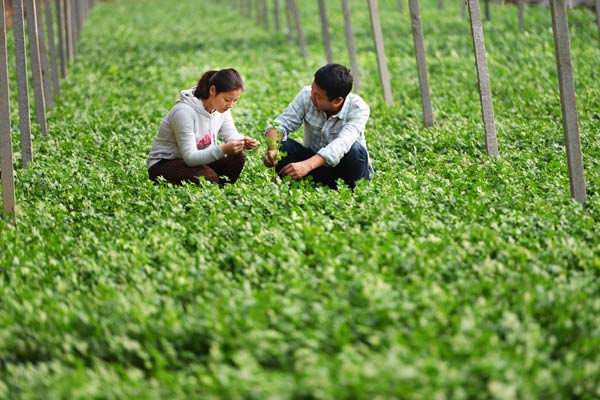 Chen Guoliang (R), 26, and Lu Man, 24, both with master's degree, gave up job offers and returned to countryside to develop agriculture. [Photo/CFP]
BEIJING - As rapid urbanization continues, some youngsters are bucking this trend and pursuing better career prospects in the countryside.
Yan Qiang was born in Chongqing municipality in Southwest China. After graduating from college last year he rented a plot of land in the suburbs of Changsha city in Hunan province and started a community supported agriculture (CSA) company.
His customers want to support local farms and do so by paying for a share of the expected harvest at the start of each growing season.
"Many of my peers are passionate about starting their own business and some have discovered opportunities in the countryside," he said.
Born in a small village in the southern Hainan province, Chen Tongkui was the first in his village to go to college. After graduating he worked as a journalist in Shanghai for seven years, before leaving in 2009 to return to his hometown to become a farmer.
Since then, he has championed ecological agriculture and agricultural tourism to his fellow farmers.
Chen also organizes a forum for college graduates interested in working in the countryside. The event, which has been held for three years, attracts hundreds of participants each year.
In the pursuit of happiness
Today the youth are choosing to go back to countryside, thanks to the government's emphasis on agriculture and the Internet.
China released its annual "Number One Central Document", the first major policy document of 2015, on Sunday, which pledged further coordinated development of cities and villages. This is the 12th consecutive year that the document has focused on agriculture.
In February 2014, a Ministry of Agriculture guidance suggestion asked local governments to issue policies that would encourage graduates to establish farms.
Meanwhile, the boom of China's e-commerce sector, combined with the development of transportation and logistics, are also supporting countryside entrepreneurs.
Many countryside entrepreneurs depend on computers and mobile devices to support their daily tasks.
Three years ago, Liu Jingwen launched an e-commerce company for local farmers in Xinjiang's Kashgar Prefecture.