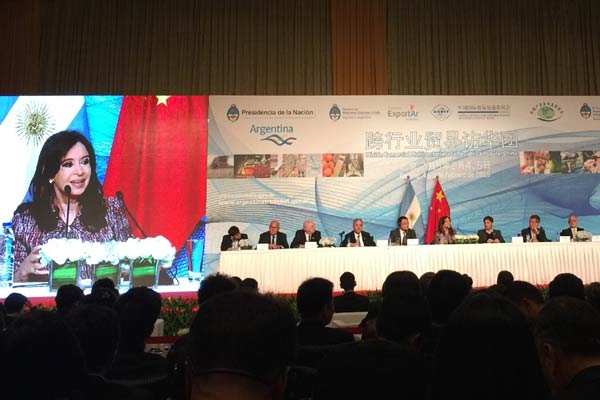 Argentine President Cristina Fernandez de Kirchner delivers a speech during the Argentina-China Enterprise Forum in Beijing, Feb 4, 2015. [Provided to chinadaily.com.cn] 
Argentina and China are to strengthen economic cooperation, especially in the fields of energy and infrastructure, Argentine President Cristina Fernandez de Kirchner said in Beijing.
The two-day Argentina-China Enterprise Forum at the China World Summit Wing of the China World Trade Center attracted nearly 1,000 participants from the two countries covering high-tech, energy, infrastructure, agriculture, food and beverage, logistics and nuclear power.
Kirchner, on a three-day state visit to China at the invitation of President Xi Jinping, led a large delegation to promote economic partnership.
She said at the opening ceremony that the countries should strengthen cooperation in fields including infrastructure and energy, and promote the sound and stable development of bilateral trade.
To realize energy diversification, Argentina hopes to boost cooperation with China on nuclear energy. Fernandez said that the countries signed an agreement to build two nuclear plants in Argentina, but didn't disclose details.
Later, Fernandez said on Twitter that the IV Nuclear Plant and V Nuclear Plant require investment of $5.8 billion and $7 billion respectively.
She said she looked forward to more Chinese businesses' participation in exploiting potassium and lithium resources in her country.
The countries are working together to build two hydropower dams - the Nestor Kirchner and Jorge Cepernic - in Argentina with an installed capacity of 1,140 and 600 megawatts respectively.
During the forum, Axel Kicillof, Minister of Economy and Finance, Julio de Vido, Minister of Planning and Public Investment and Carlos Casamiquela, Minister of Agriculture, introduced Argentina's foreign trade policy, investment environment, and related information about energy, mining, agricultural and infrastructure.
Fernandez said China and Argentina should boost exchanges and cooperation, share opportunities and work together to address common challenges.
On Wednesday, Kirchner met with Xi and the two countries signed 15 agreements covering telecommunications, travel visas, information technology, media, energy, space technology and financing.
China is Argentina's second-largest trading partner after Brazil. According to the National Institute of Statistics and Censuses of Argentina, bilateral trade reached $15.8 billion last year, down 9.48 percent year on year.