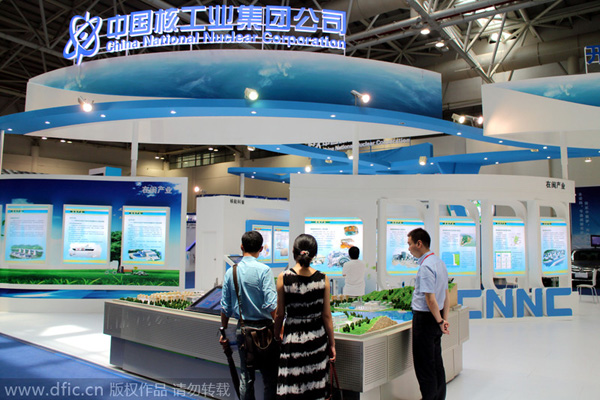 People visit the stand of China National Nuclear Corporation (CNNC) during an exhibition in Fuzhou city, southeast Chinas Fujian province, June 20, 2014. [Photo/IC]
China National Nuclear Corp, China's largest nuclear power plant operator, said on Thursday it will export its third-generation technology to Argentina under a bilateral agreement.
This will be the first time for China to export nuclear technology to Latin America, and analysts said that such deals will become a new growth driver for the nation's exports.
The deal was signed in Beijing by Nur Bekri, head of the National Energy Administration and Julio De Vido, Argentina's minister of Federal Planning, Public Investment and Services, on Wednesday. The ceremony was witnessed by President Xi Jinping and Argentine President Cristina Fernandez de Kirchner.
Later, Fernandez said on Twitter that the Reactor IV and Reactor V will require investment of $5.8 billion and $7 billion, respectively.
Reactor IV, a heavy-water model, will import 30 percent of its components and parts. Reactor V will import 50 percent of components, she said.
Ma Yi, an expert at China Nuclear Power Engineering Co, said that the ACP1000, China's domestically developed pressurized-water nuclear reactor, is likely to be used for Reactor V.
Argentina already operates three nuclear power stations that use technology from Germany and Canada. Allowing Chinese companies to participate in new plants means China's nuclear technology can be competitive with its Western peers, said experts.
The ACP1000 nuclear power reactor passed the Generic Reactor Safety Review by the International Atomic Energy Agency in December. The reactor is the core technology of the Hualong One, the third-generation nuclear reactor jointly developed by the CNNC and China General Nuclear Power Group.
"The technology is relatively mature," said Ma, adding China has two nuclear plants planned for the Hualong One technology: Fuqing in Fujian province and Fangchenggang in the Guangxi Zhuang autonomous region.
China also has built up substantial experience in running CANDU-type reactors. These are heavy-water models based on Canadian technology that are popular in Argentina, said Ma.