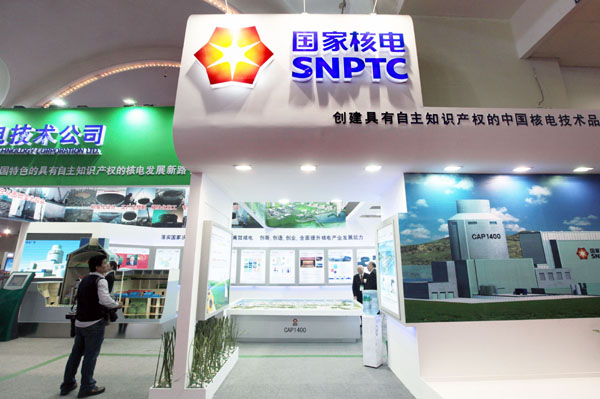 The booth of the State Nuclear Power Technology Corp at a high-tech expo in Beijing. The company's merger with China Power Investment Corp is aimed at consolidating China's nuclear sector. [Photo provided to China Daily]
Consolidation will boost global standing of Chinese companies
The successful restructuring of the rail sector and the relatively smooth progress in the impending merger of China's top two nuclear power firms are set to give new impetus for further restructuring of State-owned enterprises, industry experts said on Wednesday.
The main objective of the current phase of SOE reforms is, however, aimed at consolidating China's nuclear sector so that it can compete with international peers for global projects, the experts said.
Meanwhile, the long-standing proposal for a merger of China Power Investment Corp and the State Nuclear Power Technology Corp has crossed a major hurdle after it got the green light from the State Assets Supervision and Administration Commission, the Shanghai Electric Power Corp Ltd, a China Power Investment subsidiary said on Tuesday.
The company said its parent has won approval for the merger with SNPTC, but said the details of the reorganization are still on the drawing board.
In September the State Council, the country's cabinet, had ordered the merger of the country's two largest train manufacturers - China Northern Locomotive and Rolling Stock Industry Group Corp and CSR Corp Ltd - to cut competition with one another and present a unified front to bid for overseas projects.
Nuclear technologies are another priority in the national long-term strategy to achieve higher value-added exports - for example, nuclear and high-speed railway technologies with intellectual property rights.
Expert said the impending merger will kickstart work on several new nuclear reactors and also open the door for more overseas opportunities.
Lin Boqiang, director of the China Center for Energy Economics Research at Xiamen University, said the approval has come at a critical time, as the country is going to embark on a massive nuclear power plant program to optimize its energy mix.