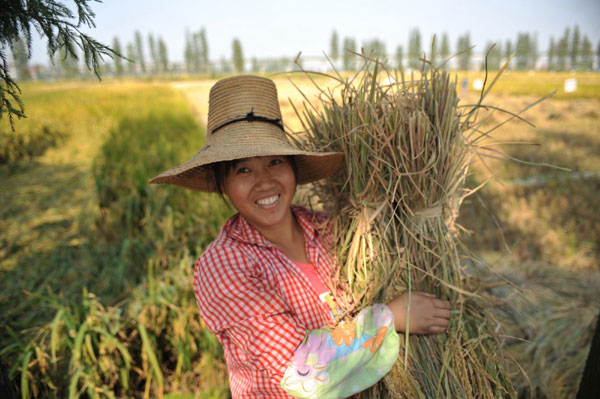 Photo taken on Oct 19, 2012 shows a farmer harvesting grain in Nanchang, East China's Jiangxi province. [Photo/Xinhua] 
BEIJING - While tens of thousands of rural Chinese have flocked to big cities for higher salaries, Lei Yingguo's decision to pursue green agriculture in the country has paid off, if only financially.
Lei was laughed at by his peers when he began large-scale rice cultivation at Xiushi town in East China's Jiangxi province in 2005, a time when most rural Chinese were deserting their contracted land for cities.
Lei's eco-farm, with an annual net income of about 500,000 yuan ($81,600), was the result of China's reformed land policy in 2004, which encouraged farmers to develop large-scale farming.
Lei is one of the beneficiaries of the 2004 reforms, but rising land rent and a shortage of advanced planting techniques have hampered his dream of expanding the farm's business from planting to breeding and grain processing.
He has new expectations for 2014, set to be a landmark year for the implementation of a reform master plan covering a spate of policies ranging from land use to anti-corruption.
"I expect favorable measures in fund-raising and government support in planting techniques during the upcoming two sessions," Lei said, referring to China's annual meetings of the national legislature and political advisors. The meeting of political advisors is set to open on March 3, and the meeting of the national legislature will open on March 5.
According to Chinese law, urban land is owned by the state and rural land is under collective ownership. Farmers can use the land but have no right to sell or develop it for real-estate use.
But they are entitled to lease their land to other farmers or to rural cooperatives and share the profits of such cooperatives.
Since the 1990s, the property market has flourished in cities and has been a major engine of growth, while ownership rules for rural land have not changed in decades, which has constricted rural development.
In order to unleash the vitality of the rural sector, Chinese leaders decided to tackle the rural land issue by putting forward a number of reforms at the Third Plenary Session of the 18th Communist Party of China (CPC) Central Committee held in November.
Two sessions eyed for local govt debt solution
China's farmland goes to larger entities