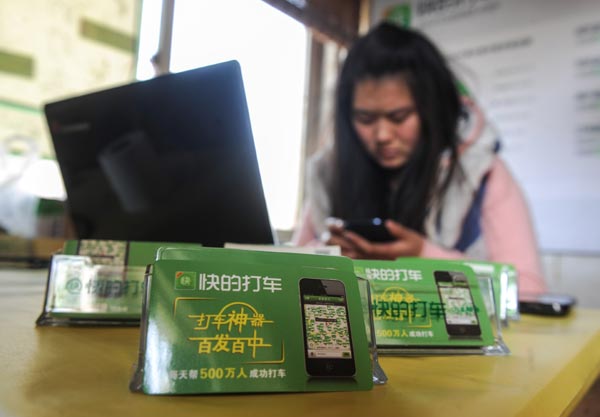 An employee from taxi-hailing app company Kuaidi Dache helping a customer install the software. Launched in 2012, Kuaidi has linked up with more than 1 million taxis in more than 300 cities across China, including Hong Kong. [Photo/Xinhua]
Alibaba and Japan's SoftBank participate in new round of financing 
Popular taxi-hailing app Kuaidi Dache, backed by Alibaba Group Holding Ltd, said on Thursday that it had raised $600 million to strengthen its position in the hotly contested market.
The latest round of financing was led by Japanese telecommunications giant SoftBank Group, with the participation of Alibaba and Tiger Global Management LLC.
Lu Chuanwei, CEO of Kuaidi Dache, said the money will help Kuaidi expand its services in China and make a further positive impact on urban transportation.
Launched in 2012, Kuaidi, with its integrated mapping and third-party payment technology, has linked up with more than 1 million taxis in more than 300 cities across China, including Hong Kong.
Domestic technology consultancy Analysys International in November named Kuaidi as the taxi-hailing app market leader in China, with a market share of 54.4 percent.
Jonathan Lu, CEO of Alibaba Group, said: "Kuaidi Dache is transforming China's urban travel through technology and enriching the lives of many people in the process. We believe that the mobile Internet is entering an exciting phase, and Kuaidi Dache is well-poised to grow from this."
However, Kuaidi faces stiff competition from domestic rival Didi Dache.
Didi Dache, backed by Tencent Holdings Ltd, Singapore government investment firm Temasek Holdings and DST Global, completed a Series D round in December of $700 million.
The rivalry between Kuaidi and Didi came to a head in the first half of 2014. In a battle for market share, they spent an estimated 2 billion yuan ($325 million) in subsidies to drivers and customers.
Kuaidi introduced Yi Hao Zhuan Che last year to enter the luxury car-booking service segment, which brought it into competition with San Francisco-based Uber Technologies Inc, valued at $40 billion and backed by Baidu Inc.