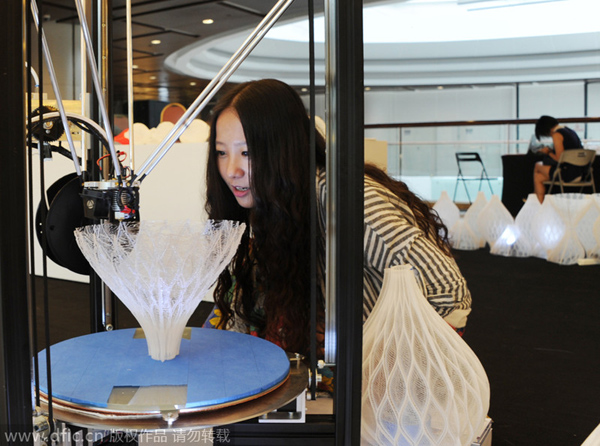 Items are manufactured using 3D printer at an expo in Shanghai, Sept 29, 2014. [Photo/IC]
After decades of development, 3D printing is now ready to revolutionize manufacturing
In October, the southern Chinese city of Changsha launched an industrial park. What sets it apart from other manufacturing centers is that it is poised to play a key role in the growth of Chinese technology.
The development is China's first hub for 3D printing technology, and was established with an immediate goal to produce 100 3D printers, and to triple the number of devices by 2016. Taking Changsha's lead, the cities of Wuhan and Zhuhai have announced plans to develop similar industry hubs.
Other countries in the Asia-Pacific region are also focusing on this fast-growing technology.
Over the next five years, Singapore plans to invest $500 million to boost skills in advanced manufacturing, focusing heavily on 3D printing.
Companies in Japan are already marketing inexpensive desktop 3D printers, while South Korean conglomerates are widely using the technology.
After decades of development, 3D printing has emerged as a viable and affordable technology, increasingly used by both the private and public sector. While problems remain, it could eventually revolutionize the manufacturing sector that many countries in Asia depend on for economic growth.
"3D printing has been around since the 1980s and has been expanding into mass production and specialized manufacturing since then," says Maria Smith, head of law firm Baker & McKenzie's trademarks practice in Hong Kong.
"The business is growing rapidly. In 2013, the (global) market size was estimated at $2.5 billion. It is projected to reach $16.2 billion by 2018."
3D printing, also known as additive manufacturing, has already been used to produce cars, buildings, guns and even artificial body parts.
"In the medical field, Chinese scientists have gone a step further, using live tissue to create organs and print ears, livers and kidneys," adds Smith.