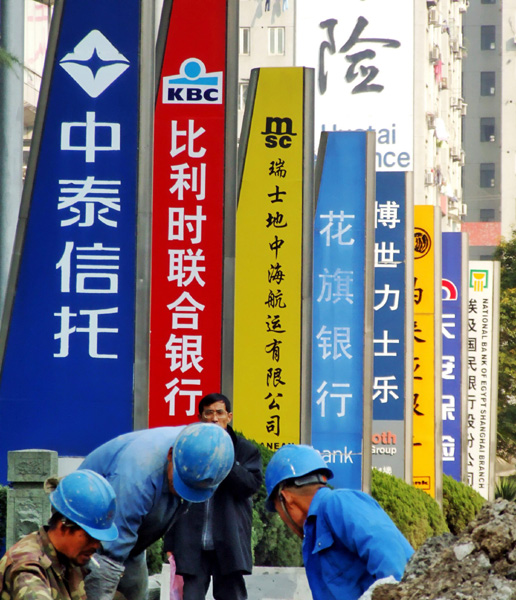 A row of billboards advertising foreign banks in Shanghai Lujiazui Finance and Trade Zone. Many foreign banks expect 8 to 18 percent revenue growth in China for 2017, according to Ernst & Young LLP. [Photo provided to China Daily]
Foreign banks in China remain optimistic about their prospects, Ernst & Young LLP said in a recent survey of 41 locally incorporated foreign banks.
Many of these banks expect 8 to 15 percent revenue growth for 2017 and 13 banks expect 20 percent or higher revenue growth.
But many respondents said that they still find the market "challenging and complicated" because of the issues raised by financial reform and economic restructuring.
They identified regulatory challenges including access to the bond market, rules and regulations and capital and liquidity constraints, says Brian Metcalfe, co-author of the report and associate professor at the Goodman School of Business at Brock University in Canada.
At the top of bank executives' wish list: remove foreign debt quotas, remove foreign guarantee quotas and ensure better coordination among regulators.
Foreign banks expressed concern about liquidity management, which is closely related to funding sources. Thirty banks revealed that their funding depends heavily on their parent banks' funding and corporate deposits, says Shelley Chia, a partner in the E&Y greater China financial services organization.
The opening-up of China's capital market will greatly improve access to funding and ameliorate liquidity concerns, the report said.
As the economy is slowing down, regulators may adopt a more lenient approach toward foreign banks.
At least 20 foreign banks have shareholdings in domestic banks and are subject to the 20 percent investment ceiling. While foreign banks' interest in investing in domestic banks has declined, less restrictive ownership regulations that allow a foreign bank to acquire more than a 50 percent shareholding in a mid-sized bank might attract interest from foreign banks, the report said.
Geoffrey Choi of E&Y's greater China practice says: "The future development of foreign banks in China mainly depends on whether regulators will ease restrictions on foreign banks and whether foreign banks will gain an advantage over Chinese-funded banks and Internet finance companies amid severe competition."
The regulatory environment is improving because China has eased market access for foreign banks, which will seek opportunities from the evolving renminbi internationalization and interest rate liberalization, Choi says.
As digital and mobile banking develops, foreign banks will be on a relatively level playing field with their Chinese competitors, although many foreign banks still feel that their progress in these areas is quite slow, he added.