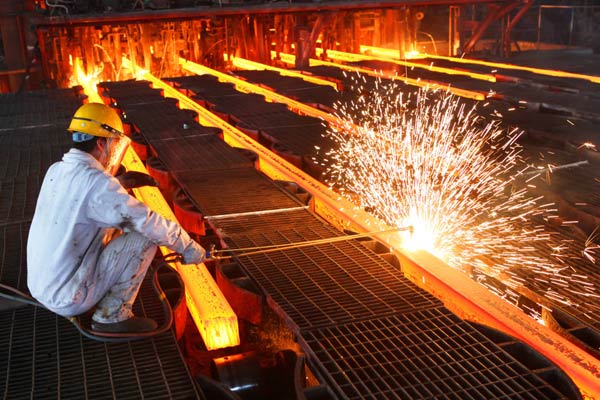 A worker cuts steel bars on the production line of a mill in Lianyungang, Jiangsu province. The HSBC flash manufacturing PMI for November dropped to 50.0 from the October final reading of 50.4, HSBC said in a report. [Si Wei / For China Daily]
BEIJING - Chinese manufacturing activity continued to wane in January as a key index dropped below the 50-point mark for the first time since October 2012, marking increasing downward pressures on the economy, official data showed on Sunday.
The manufacturing purchasing managers' index (PMI), a key measure of factory activity in China, posted at 49.8 in January, down 0.3 percentage point from December, according to the data jointly released by the National Bureau of Statistics (NBS) and the China Federation of Logistics and Purchasing (CFLP).
A reading above 50 indicates expansion, while a reading below 50 represents contraction.
The reading, falling for four consecutive months, surprised the market as many institutions had forecast the PMI would rebound slightly.
Zhao Qinghe, a senior statistician of the NBS, attributed the PMI retreat to the coming Spring Festival holiday and seasonal factors, a period known for slowed manufacturing activity. The index retreated every January for the last six years except for 2012.
Falling commodity prices and sluggish market demands also contributed to the drop, Zhao added.
Of all the five sub-indices, four dropped in January except that for delivery time. Those for employment and raw material inventories remained under the 50-point mark, while the other three sub-indices, including new orders and production, stayed in the expansion zone.
Chen Zhongtao, a CFLP analyst, pointed out that there is lingering downward pressure that should not be neglected.
A note from a research center under the Bank of Communications (BOC) said the recent losing streak reflected the industrial momentum is weakening and even the economic growth may dip further.
Dragged down by a cooling property sector and lackluster exports, the Chinese economy expanded 7.4 percent in 2014 year on year, the weakest reading in 24 years.
Chen expects manufacturing business would likely fluctuate again in February still plagued by the holiday factor, but a recovery could be anticipated after March and will help maintain a stable economic trend.