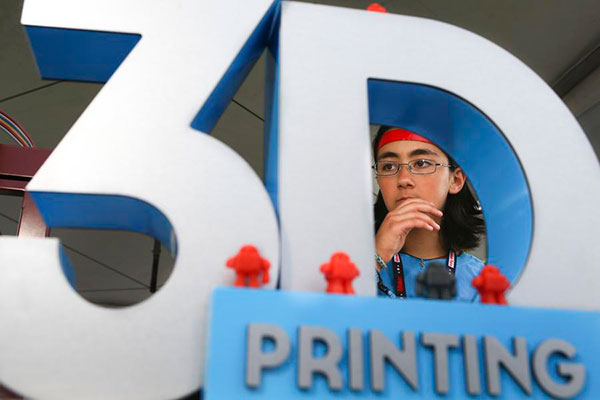 A 3D Printing sign is seen at the Radio Shack booth at the Maker Faire in San Mateo, California May 17, 2014.[Photo/Agencies]
Tiertime marketing director Guo Qiao said that once materials, modeling and Internet technologies are ready to make 3D printing as easy to use as computers, the future of the industry will be "unimaginable."
People in China are testing 3D printing in every possible industry, from houses to food, clothes and surgery.
Image-modeling technology company 3DCloud extended its business to chocolate 3D printing this year. Around 2,000 chocolate printers targeting bakeries, restaurants and cafes will soon hit the market, said Wang Yanshu, CEO of 3DCloud.
After the user draws a 2D picture using an app connected to the printer, the printer can print a chocolate with the same design in 10 minutes. "Every piece of chocolate is unique," said Wang. "And the magical thing about 3D products is the uniqueness."
Growing demand for customized products makes Wang believe that the 3D printing consumer market has great potential, especially in the gift, costume and home decor markets.
Though optimistic about the future, Wang finds it a bit difficult to attract household users as many people still regard 3D printing as a novelty. "The technology is hard to use practically," Wang said.
The technology is still in an early stage, and most people do not understand how it is applied, Luo said.
According to Tiertime, 90 percent of its domestic market share comes from school laboratories, which need desktop 3D printers so students can learn, experience and design. While the education market has grown rapidly, the individual market has remained largely untapped.
Tiertime's Guo expects 3D printing to remain a niche market as few Chinese feel the need to buy a 3D printer for the office or home, even though many families can now afford them.
One major hurdle is the lack of diverse printing materials and modeling resources.
Guo said that in order for 3D printers to reach the level computers have achieved today, the first step is to find appropriate uses for the technology. "To find such a scenario means finding the 'killer' application for the industry," he said. "3D printing can be nowhere, but it could be everywhere."
"The consumer market is still a small pond, but if we keep digging, we will find an ocean awaits us to explore," Guo said.