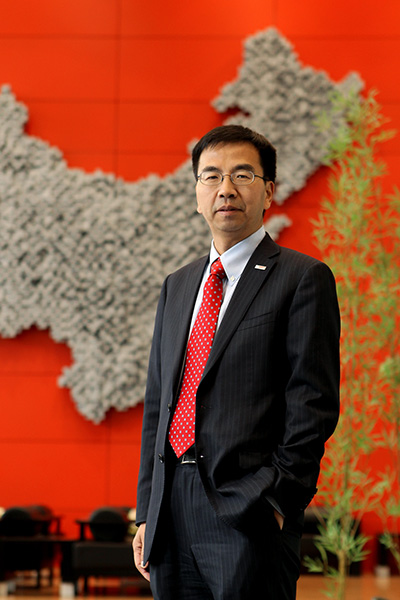 Chen Yudong, President, Bosch (China) Investment Ltd
Editor's note: At the World Economic Forum's three-day meeting in Dalian, Liaoning province, China's economic growth is once again in the spotlight. More than 1,700 participants from 90 countries are attending "Summer Davos", opening on Wednesday, to chart a new course for growth as global recovery sinks into uncertainty. Before the conference began, business leaders from international companies shared their opinions with China Daily about China's economic prospects and what strategies they may take to readjust to the nation's new normal of growth.
Here are the excerpts from the interview:
1.Economic slowdown pressures have increased in China since the second half of 2014. During the first six months this year, GDP growth has fallen below 7 percent, while deflation pressures have risen in the manufacturing sector. Against this backdrop, what are the challenges that you have faced/continue to face in China, especially with regard to the business development strategy and actual operations? How would you rate you company's performance in China during 2014? Over the next five years, do you see an increase/decrease in China's contribution to your global business? Having said that, do you also foresee any major risks in the China market over the long term?
China is an important market for the Bosch Group – both as a local production and engineering hub as well as for our innovative products and solutions. In addition, China is the second-largest market outside Germany for Bosch, with sales of 6.4 billion euros ($8.18 billion) in 2014, representing a year-on-year growth of 27 percent. Bosch business continued a healthy development in the first half of 2015.
The economic situation in the second half of 2015 will become more challenging for everyone. However, Bosch is convinced about the long-term potential of the Chinese market. For the coming years, we expect comparably modest growth and a "new normal" in China: The expected growth is still considerable. In order to achieve the target of doubling sales by 2020 in Asia Pacific, Bosch China will remain an important contributor for the company.
2. How do you see the economic reforms unravelling further in China? What do you think are going to be the key takeaways from the ongoing reforms for your business?
Improving legislation and building up an open market are the two major drivers for the development of China in last decades. With enhanced implementation of policies and increasing openness of the market, Bosch is confident to maintain its growth in China and a mutual growth with China is our primary target.
3.Have you been facing more pressures due to the energy conservation and emission reduction moves? If so, could you tell us a little bit about the pressures and the measures taken to counter the same? Did the moves entail additional investment for energy conservation and emission reduction?
"Energy saving and emission reduction" has become a growing basic demand in China. As a company focusing on sustainable development, Bosch utilizes green products via innovative technologies on the one hand, while on the other, it integrates green concepts into corporate culture and company management, laying emphasis on employees' environmental consciousness.
Besides cutting-edge innovations of cleans diesel technologies, electrification systems or advanced water heaters, Bosch's efforts in industry 4.0 technologies is another recent example for energy saving and emission reduction - In an Industry 4.0 pilot project at Bosch, the application of smart manufacturing helped Bosch save about 25% energy consumption every year.
4.What's your advice to China's young entrepreneurs? Is it wise to focus so much on online business as so many are doing? What are the most important factors should they watch out for in order to achieve success?
Robert Bosch, founder of our company was a true entrepreneur. When he set up Bosch 129 years ago, he was just 25 years old. For the first 10 years, Bosch was a small company with no more than 10 employees. But Bosch focused on innovation and global trend. The development of automotive industry and his innovation on magneto ignition device for motor vehicle turned Bosch into a global giant.