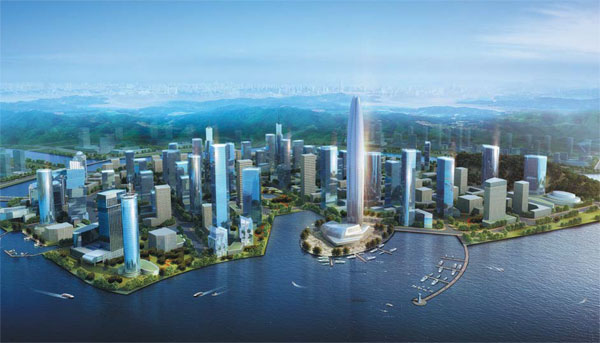 Located at the geographical center of Dalian, Liaoning province, Puwan New Area is quickly attracting investment in Northeast China and is being built into an international modern city. [Photo provided to China Daily]
Puwan New Area is attracting foreign firms by upgrading its industrial bases and procedures
On March 26, US tire manufacturer Goodyear set up its first research and development center in Puwan New Area in Dalian, Liaoning province, the company's first R&D facility in Asia.
Richard Kramer, chairman and CEO of Goodyear, said at the center's opening ceremony that the facility will strengthen the company's leading role in global tire-making by focusing on demand in the Chinese market.
The Goodyear factory, which aims to produce 13 million tires per year, is one of the largest tire factories in the world and has advanced technologies and equipment.
Jiang Zhou, secretary of the Communist Party of China Puwan Work Committee and director of the management committee of Puwan New Area, said the Goodyear factory will expand its production capacity later this year.
"Reinvestments mean there is strong demand in the market and shows that there is recognition toward the investment environment in Puwan and Dalian," Jiang said.
This year, 13 companies in Puwan New Area, including Goodyear, increased investments, with total capital of 4.2 billion yuan ($657 million), to expand production.
National key area
Dalian is a hub for international shipping, logistics and regional finance in Northeast Asia. It is the frontier of opening-up in Northeast China and overlooks the Bohai and Huanghai Seas facing the Korean Peninsula and Japan.
Puwan New Area, which has a population of a million and measures 3,357 square kilometers, has 132 km of coastline and rich tourism resources such as hot springs and wetlands. Puwan is located 40 km from downtown Dalian.
In June 2014, the State Council approved the establishment of Jinpu New Area, which consists of Jinzhou New Area, a bonded area and Puwan New Area.
Jinpu New Area is the 10th national key area to develop high-tech industries and the only key area in Northeast China to facilitate cooperation with countries in the northeastern parts of Asia. The key area also aims to restructure and upgrade its old industrial bases and to advance technological innovations.