During a trip in August to survey the administrative service center of Jinzhou New Area in Dalian, Liaoning province, Zhang Shikun, secretary of the Party Working Committee and director of Jinpu New District's administrative committee, told the center's employees that "your work and your service represent the government's image and this is the government in the eyes of civilians".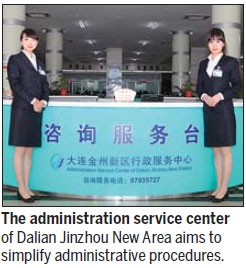 Jinpu New District, composed of Jinzhou New Area, Puwan New Area and Dalian Bonded Area, was approved as China's 10th State-level new district last June.
From August of this year, 18 departments involved in administrative examination and approval work have been stationed in Jinzhou New Area's administrative service center in an effort to elevate work efficiency.
It is also a move by Jinpu New District to conform to the government's campaign of simplifying administrative procedures and delegating powers to lower levels, optimizing services and transforming government functions.
From the beginning of this year, Jinpu New District has intensified its efforts in the reform of administrative examinations and approvals.
All proceedings and personnel involved in administrative examinations and approvals must be stationed in the administrative service center of Jinzhou New Area.
To optimize procedures for examinations and approvals, and for the convenience of enterprises and civilians, the administrative service center has new plans for its in-house services.
Currently, there are three service windows. Section A mainly offers services to enterprises, such as enterprise registrations. Section B provides services that are related to social affairs, including residence registration, education and healthcare. Section C mainly deals with business related to the joint examination and approval of construction projects, and it aims to finish examination and approval procedures in 20 workdays before a project begins.
"In the past, when we dealt with administrative examinations and approvals, we had to run between different departments, consult with different officials a number of times, make a number of phone calls to get the information we needed. Now, everything has become simpler," said Wang Xu, a staff member at the infrastructure department of Dalian King Bohai Coast Economic Zone. "When all the procedures are done, we will receive a text message telling us when to pick up the related documents at which window."