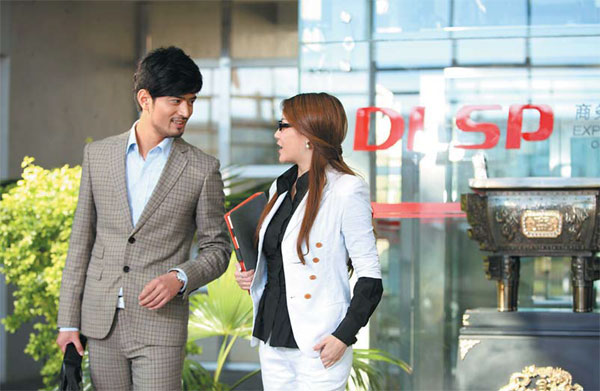 Dalian in Liaoning province is home to more than 2,000 software companies with a total of about 200,000 staff. [Photo provided to China Daily]
Port city acts as Northeast China's opening-up frontier
Xia Yan, a 32-year-old software engineer at Yidatec Co, has seen her income increase as the software engineering industry has boomed in Dalian, a coastal city and an industrial hub in the south of Liaoning province.
"Chinese companies have outsourced more of their business to other companies in recent years. My company recruited more than 200 new employees in the first half of this year," Xia said. "Last year, the company enrolled 600 people for just one big project."
Dalian-based Yidatec has 3,000 employees in several cities, including Beijing, Shanghai and Tokyo, and generated 160 million yuan ($25 million) in revenue in the first two quarters of this year, according to the Dalian Economic and Information Technology Committee.
Between January and June, the city's software industry brought in 81.4 billion yuan in revenue, an increase of 12.7 percent from the same period last year.
Dalian, on the south of Liaodong Peninsula facing South Korea and Japan, has become a frontier for the opening-up of Northeast China.
From the beginning of this year, Dalian has strengthened its efforts to adjust economic operations to boost new local economy drivers while under unprecedented pressure from the nationwide economic slowdown.
"Positive factors of economic development have emerged to cultivate steady growth," said Tang Jun, Party chief of Dalian.
As an important industrial hub, Dalian's overall industry is worth 1 trillion yuan, with strengths in equipment manufacturing, chemicals and shipbuilding. The city has achieved some success in upgrading traditional industries and cultivating new strategic industries, including marine engineering equipment, software information and new energy.
During his visit to Liaoning in August 2013, President Xi Jinping said Dalian must underscore its roles as an international shipping center in Northeast Asia, an international logistics hub and a regional financial center, to take further steps to build a pilot area of industrial restructuring optimization and social and economic development.
Key role
In the first half of this year, Dalian Port shipped 4,200 containers in Manzhouli, a border city in the Inner Mongolia autonomous region, an increase of 46 percent year-on-year.