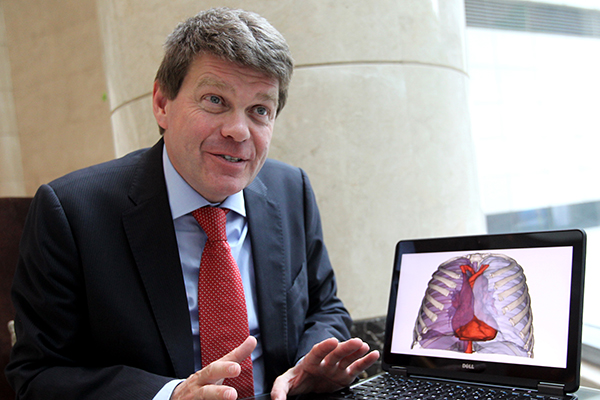 Peter Leys, chairman of Materialise NV. [Photo/China Daily]
Materialise NV, a leading provider of 3-D software and printing solutions to the medical, industrial, and consumer markets, has signed an agreement with Fuwai Hospital in Beijing to open China's first multi-disciplinary 3-D printing center for medical specialists.
The facility is expected to be completed by the end of the year.
Fuwai is the country's largest cardiovascular hospital and the center will focus particularly on 3-D printed heart models, technically supported by experts from the Belgium-based Materialise.
The agreement was signed in the presence of a delegation of Belgian government officials in China, as part of an official visit by the country's King Philippe.
Peter Leys, chairman of Materialise, said the company has already worked closely with Fuwai Hospital and Chinese regulatory authorities on ways of enabling doctors and patients to benefit from 3-D printed heart models.
The models have already proven invaluable around the world in the planning of complex medical procedures, improving outcomes and in many cases, saving lives, Leys said.
"This is especially true for babies born with heart defects due to the complexity that comes with treating patients so young and delicate," he said.
Surgeons from Fuwai first got in touch with Materialise after hearing about its work at an international medical conference and decided to bring the technology to China.
"Materialise has helped us navigate opportunities and achieve medical 3-D printing goals in a safe, economical and sustainable way," said Hu Shenshou, the head of Fuwai Hospital.
Under the cooperation agreement, Fuwai Hospital will become China's leading center for 3-D printed heart model education, and be responsible for bringing the technology to other parts of the country, Hu said, adding there is also great potential for applying 3-D printing to other areas of healthcare.
Leys said Materialise's surgical guidelines were sold to 150 sites globally in 2014, and that customized implants are likely to be the main applications for 3-D printing in the future for medical procedures such as joint replacements.
He said it currently has no direct competitors in China, but the company is likely to start cooperating with Chinese manufacturers to work on special 3-D printers which can connect directly with its software platform.
A recent report from Chuancai Securities estimated the use of 3-D printing in the Chinese healthcare sector has grown more than 25 percent annually over the past three years, and is now worth around 10 billion yuan ($1.6 billion) annually.
"The healthcare industry is currently the third-largest part of the 3-D printing market, and its use in this area has a bright future," said Dai Kerong, an expert on orthopedic biomechanics at the Chinese Academy of Engineering.