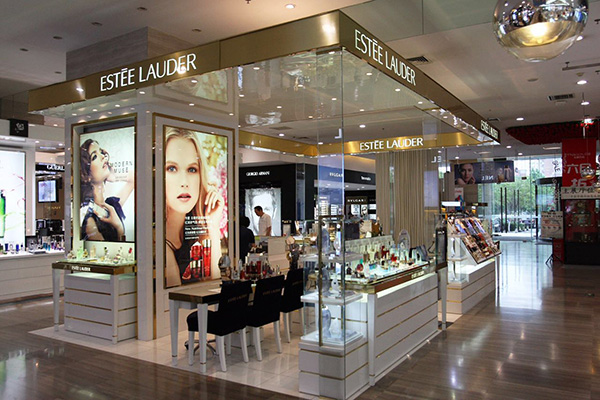 The counter of Estee Lauder skincare products at a shopping mall in Beijing, China, June 24, 2015. [Photo/China Daily] 
Beauty products giant Estee Lauder Companies Inc is lowering the retail prices of its skin care and cosmetics brands in China from July 1 in the wake of the government's decision to reduce import taxes to boost domestic spending.
The New York-based company is the first international brand to announce a price adjustment since the Ministry of Finance announced plans to lower import taxes on products such as Western-style suits and fur garments, boots, disposable diapers and skin care products, starting on June 1. The measure is intended to boost imports, promote domestic consumption and satisfy strong consumer demand for certain imported products.
The move is expected to trigger a series of price reductions by medium-and high-end skin care and cosmetic companies.
Estee Lauder said the price cuts are intended to support the government's policy on lowering import taxes and attract more Chinese consumers to its branded products.
Almost all of Estee Lauder's cosmetics and skin care brands will be affected, including Estee Lauder, Clinique, MAC, Origins, Bobbi Brown and Lab Series. Prices of the Estee Lauder brown bottle series will fall by 14 percent, the cost of a Clinique 3 Step System package will fall from 750 yuan ($120.9) to 635 yuan.
The changes will apply to all of the company's official licensed distribution channels as well as its Tmall online shop, according to the company.
Import tax on skin care products has been lowered to 2 percent from the previous 5 percent. Industry insiders say the price cuts are not just a response to the government's tax policy but part of a broader strategy for brand and consumer relations management.
According to research by Mintel Information Consulting (Shanghai) Co Ltd, 50 percent of consumers would not spend more than 100 yuan on facial cleansers, while 75 percent would try to restrict their spending on lotions and moisturizers to less than 300 yuan per bottle.
Retail prices of top beauty brands from countries in Europe and North America used to be far beyond this range. This created a barrier as the companies sought to appeal to more consumers, particularly young shoppers with relatively low spending power, said Laurel Gu, a senior analyst at Mintel.
However, the rapid growth of domestic beauty products companies such as Jala Group and Jahwa Group in recent years, combined with the growing popularity of South Korean brands such as Innisfree and Laneige, means that Western brands now face stronger competitive pressure as they pursue growth, said Gu.