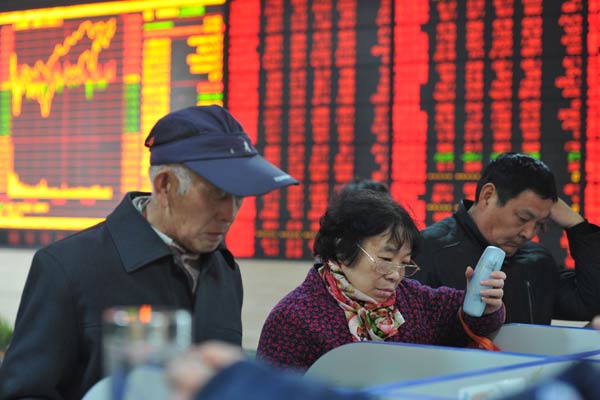 Investors examine share prices at a brokerage in Fuyang, Anhui province. [AN XIN/CHINA DAILY]
China's securities regulator said it has approved a new batch of 28 initial public offerings.
Ten companies will be listed on the Shanghai Stock Exchange , another 10 will float on Shenzhen's SME board, which hosts small- and medium-sized enterprises, and eight firms will be publicly traded on Shenzhen's start-up board ChiNext, the China Securities Regulatory Commission (CSRC) said on its official microblog late on Wedesday.
CSRC in April started greenlighting two batches of IPOs each month, compared with one previously, as the regulator increases share supplies in a red-hot stock market.
The latest batch of companies to launch IPOs include Anji Foodstuff Co Ltd, Duzhe Publishing & Media Co and Sichuan Jiuyuan Yinhai Software Co Ltd.
The companies, their underwriters and the stock exchanges will determine when they will launch IPOs, CSRC said.
Related story: Bulk IPOs spark liquidity concern for A-share market by Dai Tian from chinadaily.com.cn
Subscriptions for 25 initial public offerings (IPOs), including Guotai Junan Securities, that may tie up at least 6 trillion yuan ($970 billion) of fund starting Wednesday have sparked liquidity concerns, said analysts.
Guotai Junan Securities, China's third-largest brokerage by asset scale, will kick off road shows on Wednesday following the announcement of the issue price, selling no more than 1.53 billion shares, said the company in a filing to Shanghai Stock Exchange.
The brokerage giant reported a 1.98 times year-on-year increase in net profit attributable to shareholders to 2.83 billion yuan in the quarter ending March. According to the filing, the company's net profit grew 1.37 times in 2014 to 7.17 billion yuan.
About 20 IPOs will be open for subscription starting Thursday and Friday, marking a peak of dense offerings since the year-long hiatus, reported China Securities Journal.
The benchmark Shanghai Composite Index edged down 2 percent from its highest level in seven years on Monday, amid concern that the IPOs might drain liquidity from existing equities.
It's evitable that a growing amount of capital will flow into the market along with the wealth redistribution, and the momentum cannot be altered easily, said Xun Yugen, chief strategist at Haitong Securities, in a note on Monday.
However, Hong Hao, chief strategist at BOCOM International Holdings, warned that the coming six months will be a critical time window to monitor for potential crash.
"As extreme returns with small possibility pile up, gains must accelerate to compensate excessive risk undertaking. But the probability to sustain such excess diminishes, too, much like being dealt straight flush every hand," he wrote in a note released on Tuesday.
The Shanghai gauge has surged nearly 60 percent since the beginning of this year and 145 percent for the past 12 months.