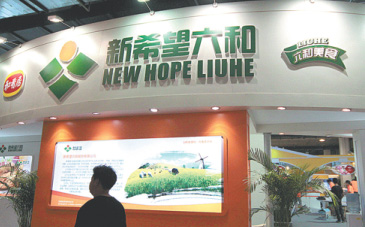 A New Hope Liuhe Co stand at an international agricultural exhibition in Beijing. [Photo/China Daily]
International Finance Corp, a member of the World Bank Group, is providing a long-term financing package of $60 million to support the expansion plan of the Singapore subsidiary of leading Chinese agribusiness company New Hope Liuhe Co.
Officials said the deal will boost the company's investment in agriculture and food businesses across 10 countries in South and Southeast Asia, and create hundreds of new jobs in some of the region's most needy markets.
Karin Finkelston, IFC's vice-president for global partnerships, said the project is expected to create at least 1,500 new jobs and help improve the productivity of around 50,000 farmers in the region.
The focus of the spending will be on bringing high-quality equipment, produce and animal protein to Bangladesh, Cambodia, India, Indonesia, Laos, Myanmar, Nepal, the Philippines, Sri Lanka, and Vietnam.
IFC will provide a $40 million loan from its own account and $20 million from the IFC Managed Co-Lending Portfolio Program, a new syndications platform that enables institutional investors to participate in IFC's future senior-loan portfolio.
Finkelston said that New Hope and IFC have worked successfully together to promote food safety and sustainable agribusiness for more than a decade.
"Now IFC is supporting the company to grow regionally, helping create opportunities for farmers in other countries," Finkelston said.
Vipul Prakash, IFC's director for global corporate coverage, said the financing to New Hope fits perfectly with the organization's strategic priorities of promoting agribusiness development.
"It will strengthen agribusiness supply chains in Asia and globally, link farmers to markets, and support investments in rural infrastructure," said Prakash.
Last year, IFC invested $4 billion in the global agribusiness supply chain to help boost production, increase liquidity, improve logistics and distribution, and expand access to credit, particularly for small-scale farmers.
Li Bing, New Hope's president, said the funding will help the company build its capacity in international markets, improve its operations, and bring huge benefits to farmers.
"Globalization is one of New Hope's key strategic priorities. We are determined to enhance our operation in Asia and further increase our footprint in Europe and Africa through our overseas headquarters in Singapore," Li said.
Liu Yonghao, the company's chairman, encouraged more Chinese agribusiness companies to work together to expand into global markets under the Belt and Road Initiative-China's plan aiming to increase exports and focus on regional connectivity among countries in Europe and Asia linked by the Silk Road Economic Belt and the 21st Century Maritime Silk Road.