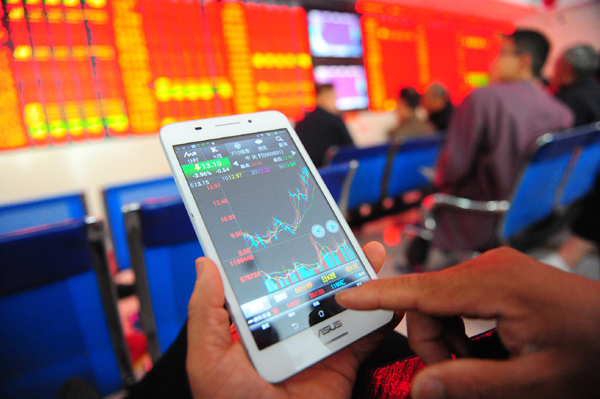 Investors are in front of a screen displaying stock indices and prices of shares at a securities brokerage in Fuyang, East China's Anhui province, Dec 11, 2014. [Asianewsphoto/Wang Biao]
Big sell-offs lead analysts to question reasons behind trades
Senior executives and large shareholders of listed companies have been dumping shares in their own firms which could have exacerbated the current selling pressure on the market, prompting fears of possible malpractices or insider trading.
As of June 17, 1,234 listed companies had seen their executives and large shareholders reduce holdings worth 477.2 billion yuan ($77.2 billion) since the beginning of the year.
The largest share sale took place during May as shares worth 150.8 billion yuan were offloaded.
The combined value of share reductions by executives and large shareholders during May and the first three weeks of this month exceeded the total value offloaded by listed companies last year.
While the massive sell-off could be viewed as straightforward profit-taking, the trend has nonetheless prompted concerns of possible market malpractices or even insider trading.
The Shenzhen Stock Exchange has issued warnings to a dozen listed companies, because officials fear the sales could have violated regulations which require notification of such sales, and forbid shareholders owning more than 5 percent stake of a listed company from selling their shares within six months of their purchase.
"The owners and executives are responsible for creating profits for their investors," Liu Shuwei, director of the Chinese Enterprise Research Center at the Central University of Finance and Economics, wrote in her micro blog.
"If they begin to substantially reduce their own holdings, we can only say that the company's operation is in trouble."
Liu, well known for uncovering a high-profile accounting fraud by Stated-owned agricultural company Hubei Lantian Co Ltd in 2002, cited the example of Jia Yueting, chief executive of the Shenzhen-listed Leshi Internet Information & Technology Corp, who sold more than 35 million shares in the company in just three days this month, pocketing proceeds of around 2.5 billion yuan.
Some analysts have warned the share sales could have hit market confidence or even caused a "stampede", as retail investors reacted by selling.
"It is a high-risk game now to invest in companies that lack sound fundamentals and have their executives and shareholders frequently and substantially dumping the shares," said Dong Dengxin, director of the finance and securities institute at Wuhan University of Science and Technology.
The Shanghai Composite Index ended up 2.19 percent on Tuesday at 4,576.49 points, after losing 3.5 percent in morning trade.
Wei Wei, an analyst with Ping An Securities Co Ltd, said the market's high volatility indicates that overall market sentiment has now gradually shifted from extreme optimism to growing unease and divergence.
"New IPOs, large shareholders reducing holdings ... will continue to drain liquidity in the market," Wei said in a research note.
"Liquidity is not as ample as the market had hoped and Beijing's reforms do not seem to be as radical as the market anticipated," he said.