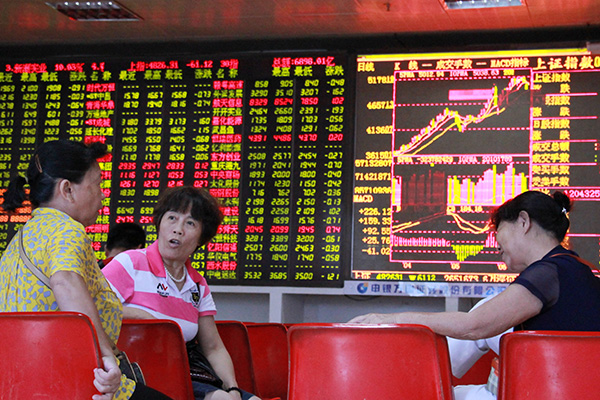 Investors at a securities brokerage in Haikou, Hainan province, on Wednesday. Liquidity, a key influence on stock prices, has shown signs of contraction in the past weeks. [Photo/China Daily]
Tightening margin trading and excess valuations weigh on fragile sentiment
The steep decline in Chinese equities last week has sparked speculation among traders and analysts on whether the market is entering a "healthy" correction to the bull run or shows signs of a bear's return.
The stock market last week saw its worst weekly performance since 2008, with the benchmark Shanghai Composite Index falling 6.4 percent on Friday alone, bringing the total weekly loss to 13 percent.
The sell-off generated mixed responses from analysts on how the market might perform in coming weeks.
Some said a short-lived technical rebound may take place but that further corrections could still be expected as tightening measures over margin financing and excess market valuations still weigh on fragile sentiment.
Following the securities regulator's moves to better regulate margin trading, a key driver for the latest stock rally, investors have been reducing their positions.
Total outstanding value of margin loans at the Shanghai Stock Exchange declined for the first time in a month on Friday to 1.48 trillion yuan ($238 billion), according to data from the exchange.
"After Friday's sharp decline, a technical rebound is likely to occur this week," said Li Daxiao, chief economist at the Shenzhen-based Yingda Securities Co Ltd.
"But it will by no means be a solid reversal."
Some market strategists cautioned that trading is likely to become ever more volatile as the previous rally was largely fueled by three main factors-a record number of rookie investors, an unprecedented level of leveraged trading through margin debt, and a belief that the bull run was based on solid government-backed economic measures.
Liquidity, a key influence on stock prices, has also shown signs of contraction as pressure eases on policymakers to engage in large-scale monetary loosening given property sales in the county have begun to recover and the general economy is expected to stabilize in the second half of the year.
More optimistic commentators, meanwhile, are tending to treat the sharp correction as a healthy adjustment, and they expect the bull run to accelerate again, although at a slower but more stable pace.