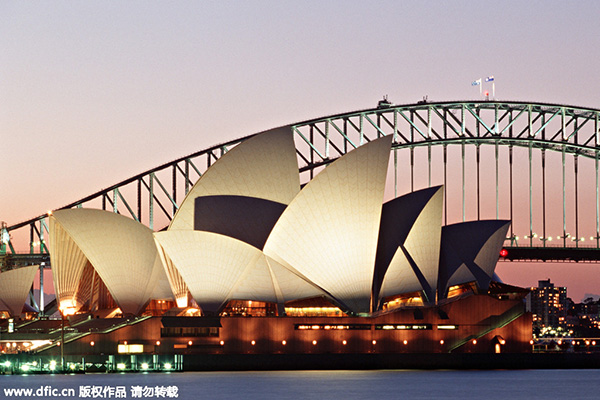 Sydney Opera House and Bridge at Dusk, Sydney, Australia, Nov 11, 2014. [Photo/IC]
CANBERRA - Chinese are flocking to Australia's banks and tourist resorts in a record number, according to official data released on Monday.
The Australian Bureau of Statistics data on Monday showed that Australian services exports to China is standing at $6.32 billion in 2014, three times that of a decade ago.
A 16.4 percent rise over the 2013 figures has been primarily led by a 14.6 percent rise in tourism. Chinese tourists are currently making up more than 86 percent of services exports to China.
Tourist numbers, that waned as the Australian dollar rose above $1 in 2013, grew almost 15 percent in 2014.
Growth was also experienced with tourists from other Asian nations. Tourism earnings from India was up 27.4 percent to $1.76 billion and Indonesia was up 5.1 percent to almost $700 million.
Falls were experienced from the strong Asian markets of Japan and South Korea of 2.8 and 0.75 percent respectively.
Australia's financial services exports to China continued to explode, rising 82 percent.
Following National Australia Bank's announcement last month it had gained approval to open a branch in Beijing, all four of Australia's major banks currently operate multiple branches on the Chinese mainland.
More than $283 million worth of financial services were exported to China in 2014, a remarkable increase on $10 million of exports only five years ago.
Transport services, a sector that has not seen a decrease in trade with China since 2009, also rose strongly with an increase of 28.7 percent in the past year.